Jason Sealock
Guys ask all the time what rods or reels we use for bass fishing, so I said I would share what some of my favorite combinations of fishing reels and rods I've been using this year. I think fishing rods are a real personal part of fishing. Anglers set the hook differently. They cast differently. They fish differently, and what rods some guys absolutely love, other anglers hate, and vice versa.
Because of this, I generally try a lot of different options before settling into one setup. So here are 6 of the rod and reel combinations I've settled into in 2018.
I wrote some articles about generalities on choosing a 6 rod and reel system years ago that you can find at the end of this article. This is a more specific look at exactly what combinations I throw the most. Down to line and even specific lures.
(1 of 6)
The Jerkbait Combo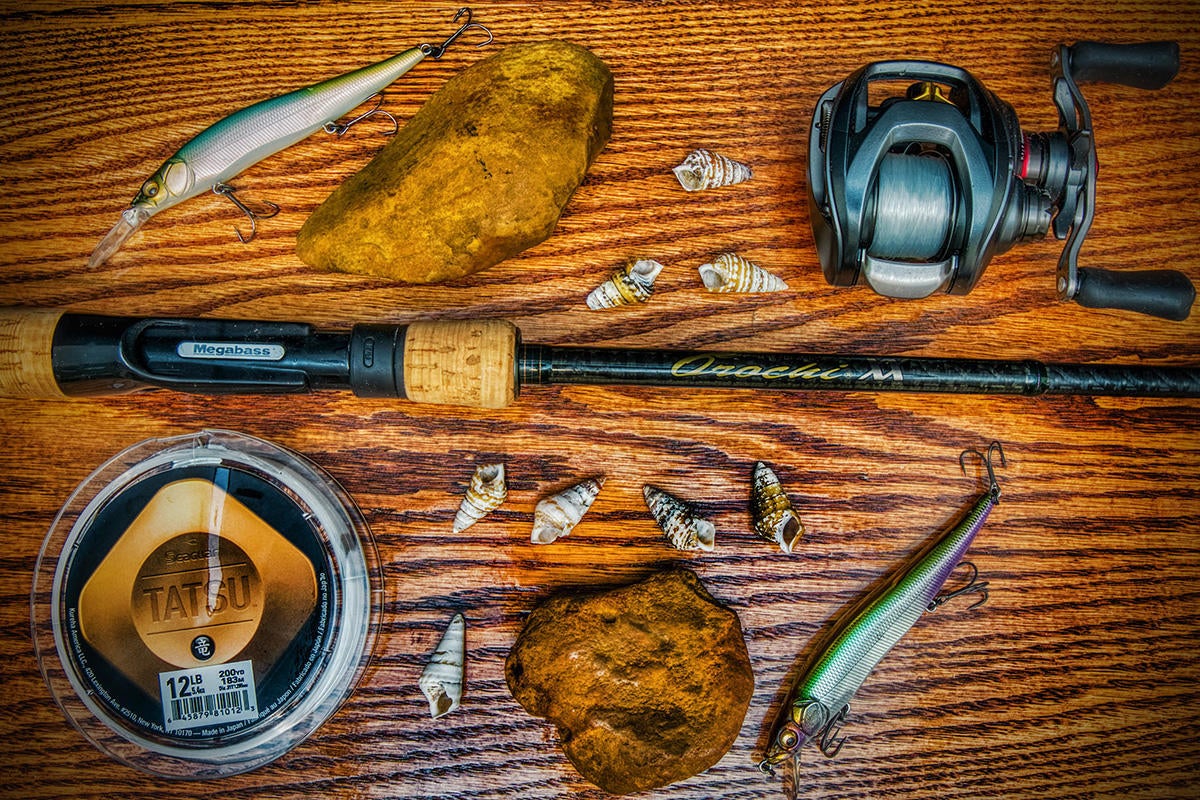 Jason Sealock
Rod:Megabass Orochi XX 6'11" Jerkbait Special
Line: Seaguar Tatsu 10-pound
Lure:Ito Vision Oneten or Oneten+1
Why it's a favorite: The Orochi XX rods have such a crisp snap-back action, and they are so sensitive, I can feel when one takes the jerkbait even on semi-slack line with my head turned. They make fishing a jerkbait so effortless. I put my most expensive reel on this rod for the Porsche setup when using a real finesse and tedious technique like jerkbait fishing in the coldest parts of winter. 
The 10-pound Seaguar Tatsu stays limp and casts great and fishes really better than most fluorocarbons because of its small diameter.
The Oneten and Oneten+1 are such proven baits for me that I have a ton of confidence at times when I know the bite can be the toughest. I fish a bunch of other jerkbaits on this combo including Rapala Shadow Raps, SPRO McSticks, and DUO Realis 110SP. 
(2 of 6)
Shallow Crankbait Combo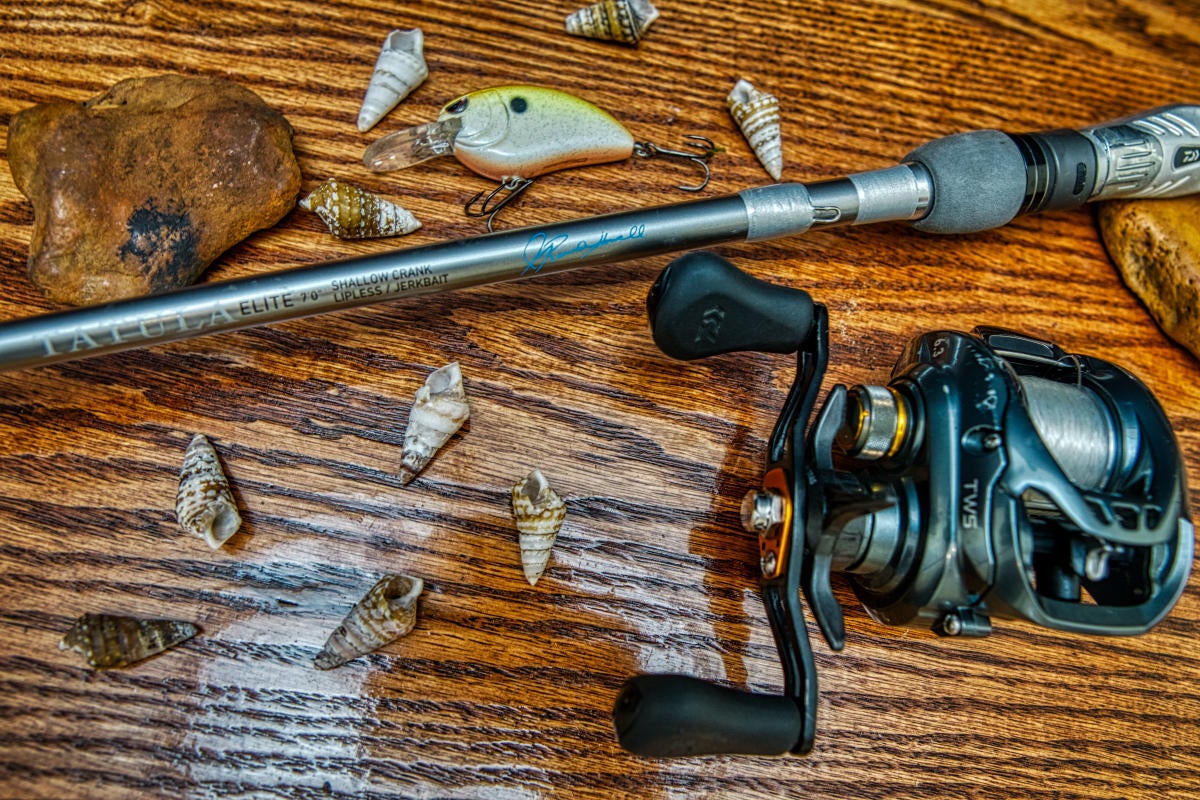 Jason Sealock
Rod:Daiwa Tatula Elite 7-foot Randy Howell ML Cranking
Reel:Daiwa SV TWS 6.3:1 
Line:Seaguar InvizX 12-pound Fluorocarbon
Lure:Spro Little John MD
Why it's a favorite: I was hooked on the original Tatula ML cranking rod, and the new Tatula Elite rod took its place after feeling how balanced and soft action it had on big bass in cold water. I have caught so many on this rod and am never worried about losing a fish on a crankbait. I can feel every twist and turn of a crankbait and often know I have a bite when I feel the water go off the bait even before I feel the bite. The SV TWS reel is so smooth and throws little crankbaits with ease thanks to its SV spool design.
I often reach for the Spro Little John MD for early winter cranking. I also like a Rapala DT 6, Strike King 1.5, and a Bomber Flat A as well as the whole series of Bandit crankbaits. I've also thrown a lot of flat sides and balsa crankbaits from PH Custom Lures and Black Label Balsa on this combo with great success. It's the perfect small crankbait setup in my mind.
(3 of 6)
Deep Swimbait Combo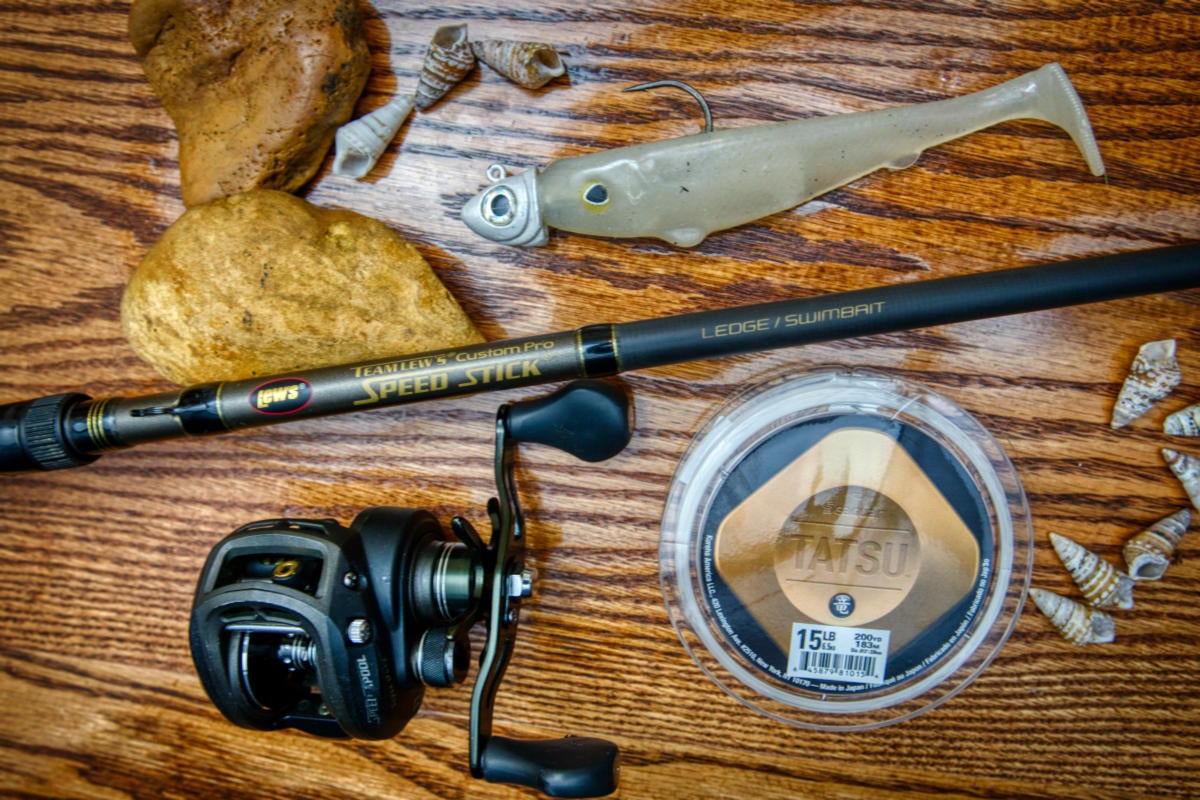 Jason Sealock
Rod:Lew's Team Custom Rose Series 7'6" Swimbait 
Lure:Scottsboro Tackle 6-inch Swimbait on 1-ounce VMC Flat Shad
Why it's a favorite: This combo has caught so many bass over the last two years. It's never out of my boat. I fish it all year long. I have developed a feel for the swimbait on this setup, and I don't want to change anything about it. The rod loads so well on the cast and on the fight, and I've swung a boat load of fish over 6-pounds on it. The 15-pound line helps me keep the bait down in current which can be important. I will sometimes go up on line size but smaller diameter line is the big advantage when throwing a swimbait out to 25-foot. 
I usually start with the Scottsboro. But I also throw the Zoom Swimmer a bunch as well as the Megabass Spark Shad 7-inch on this combo as well as some other bigger swimbaits on weighted EWG hooks. 
I think developing a real feel with a certain combo improves your fishing. Understanding everything the bait is transmitting to your line and rod is everything in fishing. I just feel so at home throwing a mid-sized swimbait on this setup.
(4 of 6)
Chatterbait Combo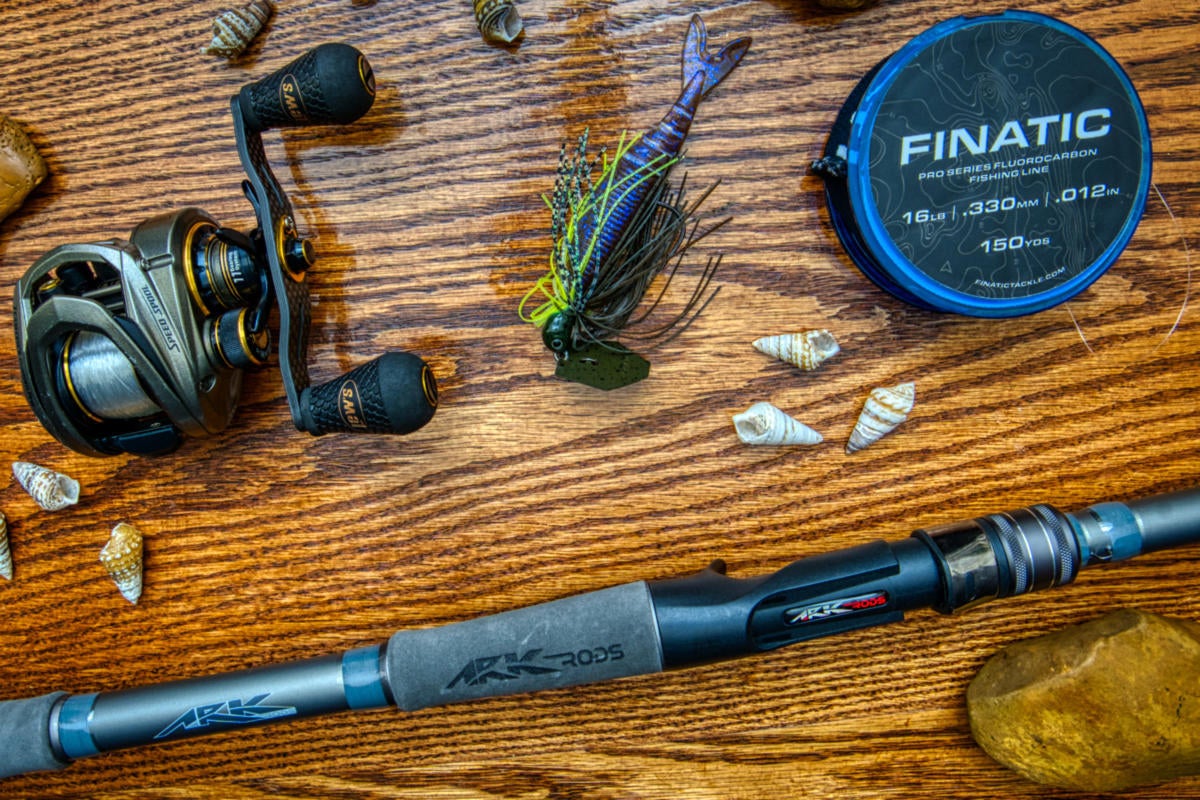 Jason Sealock
(5 of 6)
Pitching and Casting Jig Combo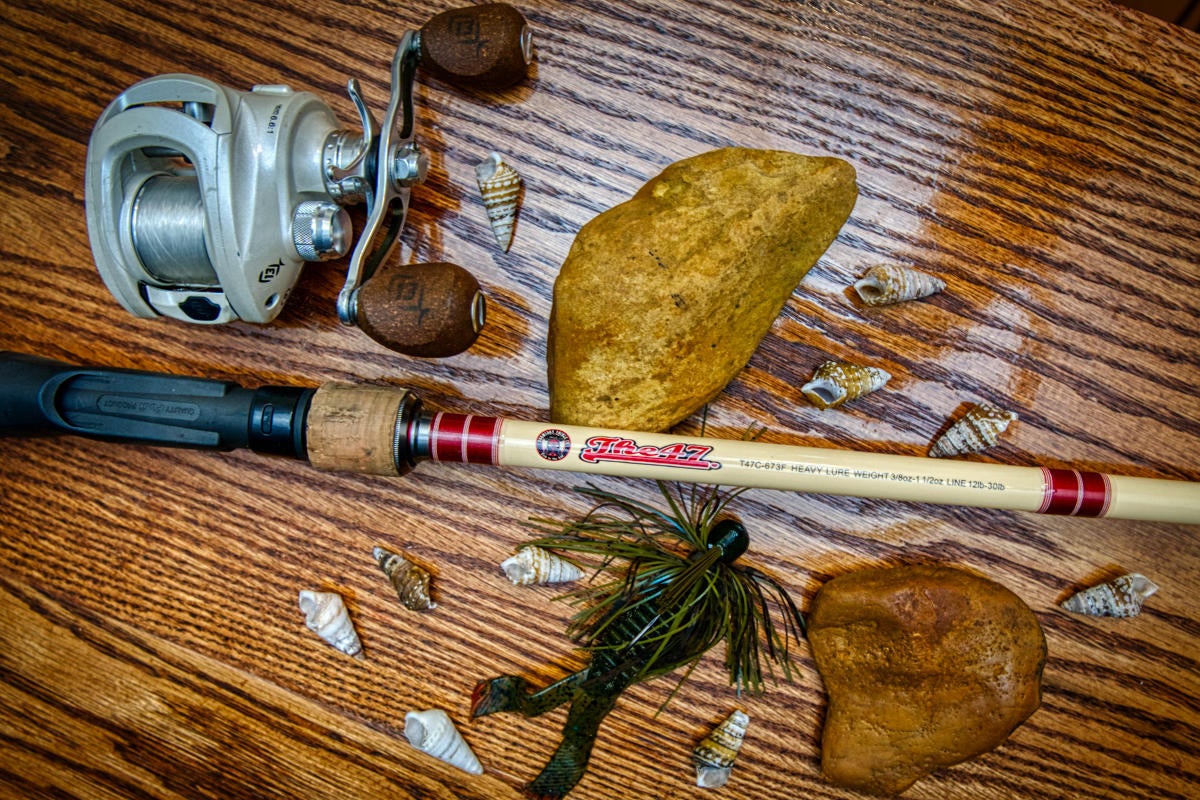 Jason Sealock
Rod: Doomsday Tackle The47 7-foot, 4-inch Heavy
Reel: 13 Fishing Concept C 6.6:1
Line: 17-pound Seaguar AbrazX Fluorocarbon
Lure: Strike King Tour Grade Skipping Jig
Why it's a favorite: Like a swimbait rod, I always have a jig rod ready. You always want to be able to pitch to a good looking piece of cover. But this Doomsday rod has done really well for fishing shallow cover as well as throwing football jigs offshore. So it's a great multipurpose rod with a heck of a backbone to crack fish up close and on long bomb casts. I often fish with this rod when fishing from the bank as well. 
The Concept C is one of my favorites of all time in the 13 Fishing reel line. This reel has been going strong for years. And still casts buttery smooth. I recently had the reel super tuned by a friend so it's a favorite of favorites now.
I often use 17-pound line for fishing around docks and throwing offshore. I will occasionally go up and down on line size depending on the cover and how deep or shallow I am fishing. I really like the the Z-Man CrosseyeZ Flipping jig and the new Beast Coast G-Spo Battle Flip Jig as well on this combo. I will throw a big worm offshore on this setup too and it even doubles as a backup swimbait rod too.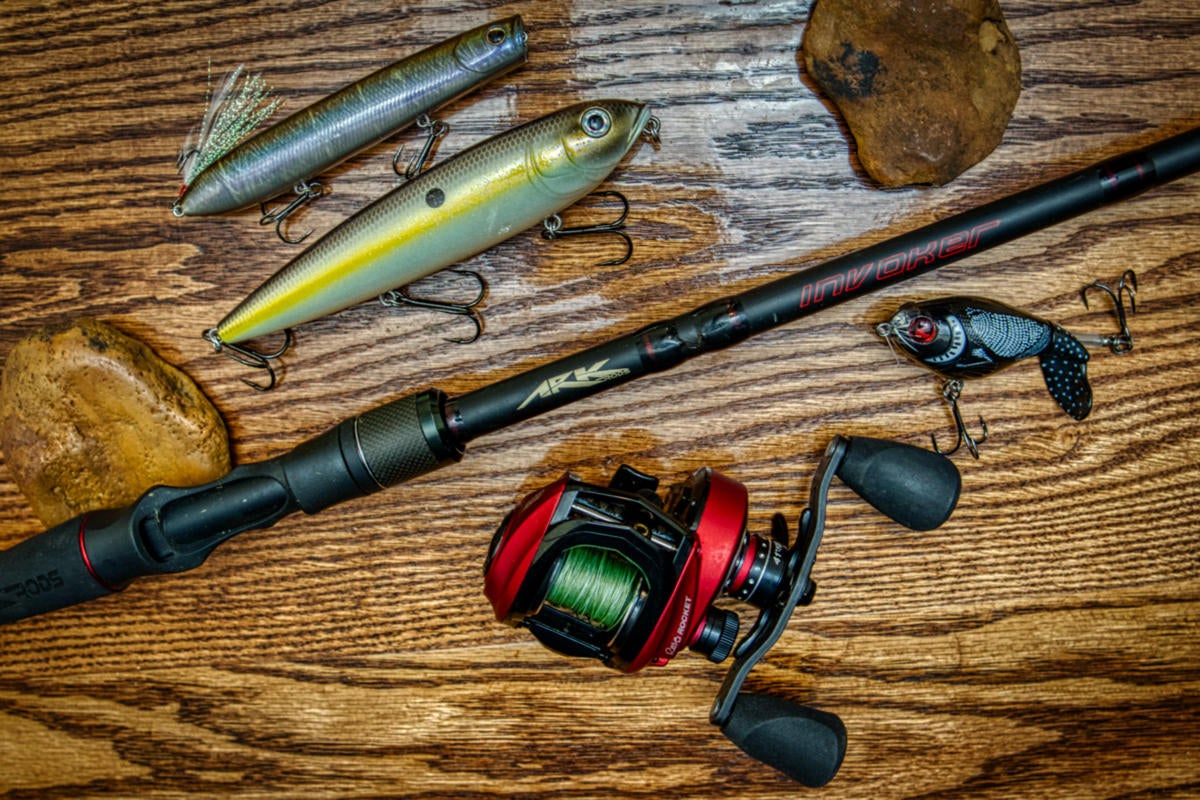 Jason Sealock
Rod: Ark Invoker 7-foot, 3-inch MH
Reel: Abu Garcia Revo Rocket 10:1
Line: Seaguar Smackdown 65-pound braid
Lure: I fish a wide range of topwaters
Why it's a favorite:This rod handles big line and big topwaters really well. It's affordable and work horse for me. I almost always fish braid on my topwaters and this rod will heave a big topwater or small one equally well.
I fish a wide variety of topwaters like the Strike King Sexy Dawg and the new Mega Dawg, Heddon Chug'n Spooks, River2Sea Whopper Ploppers or pencil baits like the Berkley Cane Walker on most occasions. 
These are some of my favorite setups that I have developed a real comfort level with for specific techniques. That's the biggest part to a combination is it feeling like it can handle casting the bait. Also that it aids you in the fight whether that means keeping small treble hooks in the fish or gaining leverage on a fish when you need it. And I want it to not where me out working the lures so it can't be too heavy or over bearing. It takes time to marry they way you fish with the right setup.
Of course I could catch bass on just about any rod and reel someone handed me as can most good anglers. But I find the whole fishing process more enjoyable the less I'm fighting with my rod and reel to be able to do what I want with various lures and presentations. The more your combos compliment your presentations the more fish you will put in the boat. 
Other resources on rod and reel combos: