"Oh! 'darkly, deeply, beautifully blue…'," (Lord Byron, Don Juan. Canto iv. Stanza 110).
Blue is a color often associated with fishing, and in the case of the new Pflueger Patriarch Spinning Reel, it will come to be associated with a high quality fishing reel with a drastic weight reduction.
One of the big knocks against today's spinning reels is their weight. If you make everything out of composite plastic to reduce weight, especially around the stem ( the arm that takes the reel from the rod seat to the inner guts and gears of the reel) then you compromise strength to the point of breakage.
In the last few years, companies have been making reels out of other materials, coating lighter materials in durable outer shells to return strength without adding weight. Materials like magnesium give you great reduction but at a major cost. But the nice thing is if you want to invest money in a quality, durable reel without all the added weight, you can now.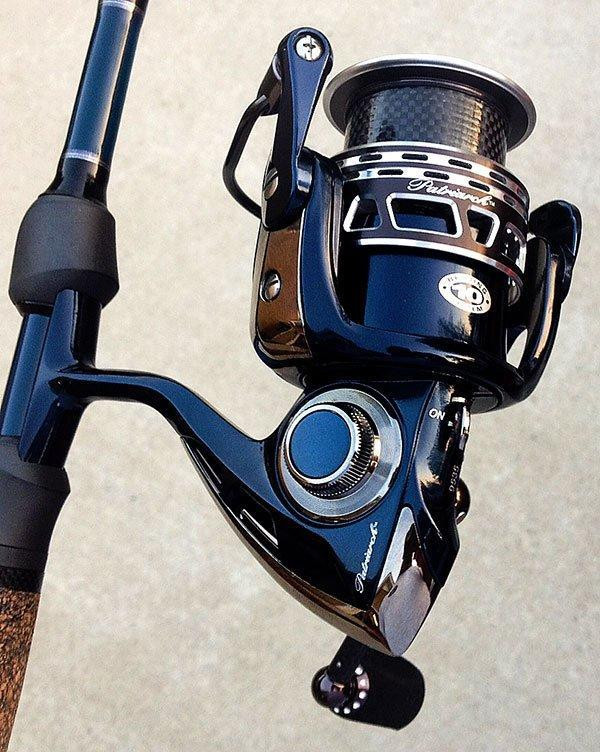 A new top-of-the-line reel from Pflueger called the Patriarch follows in the footsteps of its baitcasting brother and boasts several great features that make it a smooth, light, responsive spinning reel. The spool is oversized with features like rubber core wraps around the spool for loading braid directly. The spool, which can be one of the heaviest single parts of a reel, is "wiffled" for reduction in weight.
The arm and drag system are carbon fiber, with a padded EVA foam handle for easy grip and less weight. The instant anti-reverse operates smoothly, and the drag allows for the smallest of corrections while smoothly feeding line during a fight.
We've caught a lot of deep bass on drop shots with this reel and have really horsed them without worrying about the drag catching. The magnesium body, rotor and side plate coupled with carbon fiber arbor, aluminum spool and bail wire and titanium shaft give you not only the finest components on a spinning reel but an extremely comfortable reel to fish all day, in less than favorable conditions.
We matched the reel with the new Fenwick Aetos, which from a cosmetic and weight standpoint where designed to be matched together. The combos look great in their dark blue colors, but more importantly they offer you high-end sensitivity, castability and comfort.
The Pflueger Patriarch spinning reel is available in four sizes from an ultralight model (1204770) up to a beefed up heavy line model (1204773). We reviewed the 2000 size model that holds 140 yards of 8 pound line. All models easily switch from right to left hand modes and come with an aluminum spare spool and Neoprene protective bag.
I actually think having a smooth drag, and smooth operating reel might be more important with spinning gear than baitcasting gear. After all, you're usually using lighter, smaller diameter lines susceptible to more breaks and issues than heavier line you use on baitcasters. So if I'm going to only own a few spinning reels, I want them to be pretty high-end reels to eliminate my hassles on the water.
You can read more about the Pflueger reels at Pfluegerfishing.com and order them at this link on Tacklewarehouse.com.