We just got a few samples from Jewel Bait Company of the new Swim-It swim jig. The jig features a unique shape on the head, a great trailer keeper, double rattle collar and thin skirt that breathes and pulsates well when swam at high speeds.
The head is made with a new Metallulite construction process that yields a lighter head with a little large profile keeled head that aids in the swimming of the jig. This lighter Metallulite head stays up near the surface easier with less high speed effort on the angler's part. The paint jobs on the heads are very unique with scaled patterns in several different colors. We got a shad imitator called the Jewel Shad and also a black and blue Swim It in 3/8 ounce and 1/4 ounce respectively.
The skirts are specially designed with fewer strands to really breath and pulse in the water. The hook is a black nickel Mustad Ultra Point and features Jewel's patented J-Lock keeper that keeps your keeper from slipping or sliding down the hook shank.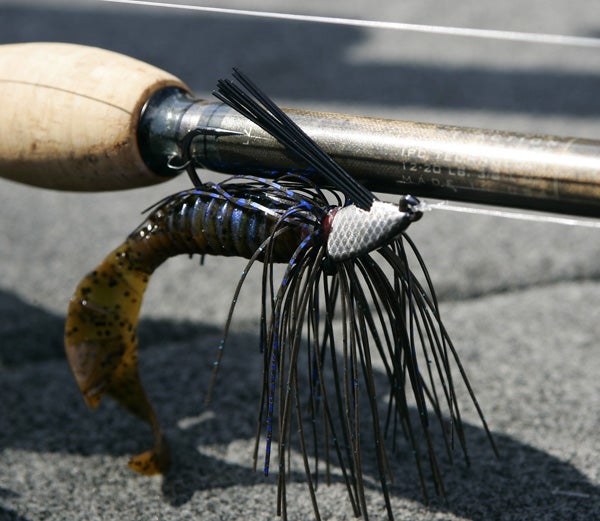 The unique wide base and lighter metal construction really makes this swim jig swim differently than other swim jigs. A lot less effort is needed to work the bait through shallow cover and deep cover a lot. The jig seems extremely weedless but the weedguard seems a little thinned out as well which is usually necessary for good hook ups.
We threw the jig a little but haven't caught any fish on it yet. We think as the fish move back shallow for fall this jig will be a wrecker on the bass up shallow around wood and dying vegetation.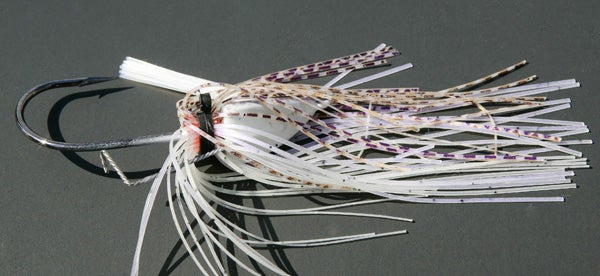 For more information visit JewelBait.com. The jigs are already available at Tacklewarehouse.com.