I met the owner of Doomsday Tackle, Will Stewart at ICAST in 2016. I could immediately tell that Doomsday would be a new company to keep an eye on. The first bait he sent me was a lure called the Doomsday Tackle Reaper. I've fished with it now for a year and here are some of my thoughts about this new plastic option for some. 
(1 of 7)
Soft moving appendages
 Stewart spent a good deal of time designing fishing tackle for for Berkley in Korea. What that gave him was a thorough education on materials and intricate detail design to meet a growing enthusiast demand. But the Korean fishing market is extremely unique in that they want JDM-type design but they want to pay rock bottom prices, not JDM prices. That meant you had to be even more creative with materials and design to do so in a limited budget. 
That education has lead to some very creative designs out of the gate for Stewarts new company, Doomsday Tackle. The Reaper comes in 3.2 and 3.8-inch offerings. They bait is very unique in that it's utlra compact has appendages that move effortlessly and a rigid enough body to stay firmly on a flipping hook. 
(2 of 7)
Flat compact but catches water
The Doomsday Tackle Reaper is narrow in profile but has built in ridges on the body and main flappers purposely designed to catch water and force the legs to kick, flap and slow rise when plunking down on the bottom of the lake. The two side antennae will not hold still even when you try to hold the bait still in your hand. So for a small profile, the Reaper has a ton of action. 
(3 of 7)
Material dense but very pliable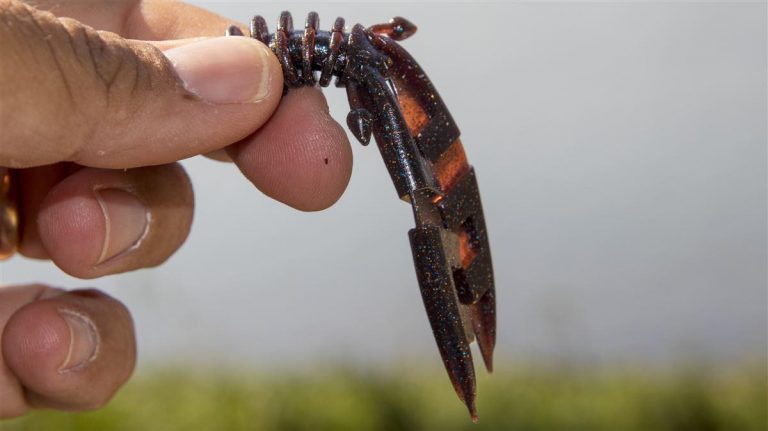 Stewart learned a lot about what you could add to plastics to make them more dense in parts and lighter in other parts so that the baits would fall or orient a certain way and be more fishable in a multitude of applications. The Doomsday Tackle Reaper seems like it's more dense than a lot of plastics on the market, even for such a small shape. But I like that because you can fish it weightless or put it on a very small jighead and fish it with a real finesse presentation without sacrificing castability and pinpoint accuracy to get it into tight places. 
(4 of 7)
Looks great on a single jighead
 I really like some of the unique colors Doomsday offers on the Reaper, but more importantly I like how it looks on different rigs. I fished it on Table Rock Lake on football heads without a skirt and it caught a lot of small spotted bass for me this summer. I also like that the bait will stand up a little and really kick with the slightest little rod shakes on a jighead like that.
(5 of 7)
Also works as a great trailer
*** Doomsday photo 
The Doomsday Tackle Reaper looks awesome on a jig as a trailer. Something about the pointing claws seem more like crawfish claws to me. I like to dip just the points in chartreuse or orange to give them a little more stand out like a real crawfish. 
(6 of 7)
Another good plastic offering
** Doomsday photo
I've not fished the Reaper as much as I should have this year. I really became fond of it late this summer, so it will definitely be in my rotation come spring and probably a lot fishing small ballhead jigs deep this winter.  
(7 of 7)
They get it and hold it
*Doomsday photo
I think you will be impressed with the unique makeup of this soft plastic craw from Doomsday Tackle. You can find the Doomsday Tackle Reaper at TackleWarehouse.com and a lot of other retailers as they are expanding their distribution currently across the US. I recommend Muddy Bayou, Beat Down, Green Pumpkin and Watermelon Red as good starting colors but they have a lot of interesting unique colors that might be perfect for your waters.