Many anglers like to talk about what makes a great riding boat better. It starts with the hull but proper amenities inside the boat can help as well. Building a boat that fishes well but doesn't kill you on those days when it's rough and you have a long run makes the money spent on quality worth even more.
Like almost everything else that goes into a Legend Boat the seats are something special. Welded Aluminum Frames, Waterproof Plastic Substrate and a Component Foam System are just the beginning. It's the 1/2-inch layer of high-tech ShockTec Gel that really separates Legends seats from the competition, and we saw it recently first hand on a tour of the Legend facility in Mountain Home, Ark.
Every detail is covered, and building a customized boat that meets the need of the buyer is their goal. We will have a feature on our tour of Legend very soon but thought small tidbits about what we saw about the detail craftsmanship were important for Wired2Fish readers. Parts of the equation are the seats. We found that ShockTec Gel very impressive!
ShockTec Gel is a Hybrid Polyurethane Elastomer that immediately dissipates an impact force. It has been tested by Snell Memorial Foundation (the nation's leading independent impact testing authority), Michigan State University, General Motors and Florida State University (2008 Blunt Force Trauma testing for the US Armed Forces). The results are impressive.
Even in the most extreme impact test, it will never compress more than 67 percent and it returns almost instantly to its original shape. This performance was not adversely affected when tested at room temperature after holding -30 degrees for 24 hours and after holding 210 degrees for 24 hours. Top it off with the industries most durable Marine Vinyl and craftsmanship built on over 35 years of experience and you get a seating system that you would expect from a high quality product.
Plain and simple, Legend builds a quality boat.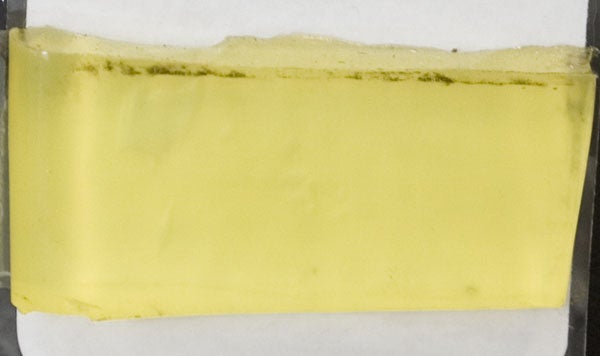 A 1/2 inch sub-section of ShockTec Gel used in Legend Boats seats