Jason Sealock
Here's a trend in bass fishing spinnerbaits for 2020 you might want to check out this spring with so much flooded, muddy water to fish. The kicker blade or "Okie blade" as some called it years ago when guys starting getting double Colorado bladed spinnerbaits with an orange front blade to fish in muddy waters of Oklahoma. That trend has been continued by many tournament bass anglers and professional anglers over the years and it finally caught enough attention in the last couple of years that now it seems like nearly everyone is offering some spin on a kicker-bladed spinnerbait.
A kicker blade is really nothing more than accent color added, usually to the front blade, for some extra pop and hopefully increasing the likelihood that a bass will see something he likes as he closes in on the thump of the spinnerbait in dirty water. Orange is a hot color for spring crankbaits so it makes sense that an orange blade on a spinnerbait would work wonders in the rising flushing waters that come with spring rains.
So here is a quick run down of 9 kicker blade spinnerbaits or variations on that idea that I like for 2020. I'll try to provide links so that you can find all of them on this list easily if you see one you really like and share some of the ones that are my favorites as well.
(1 of 10)
Accent J. Wheeler Custom Spinnerbait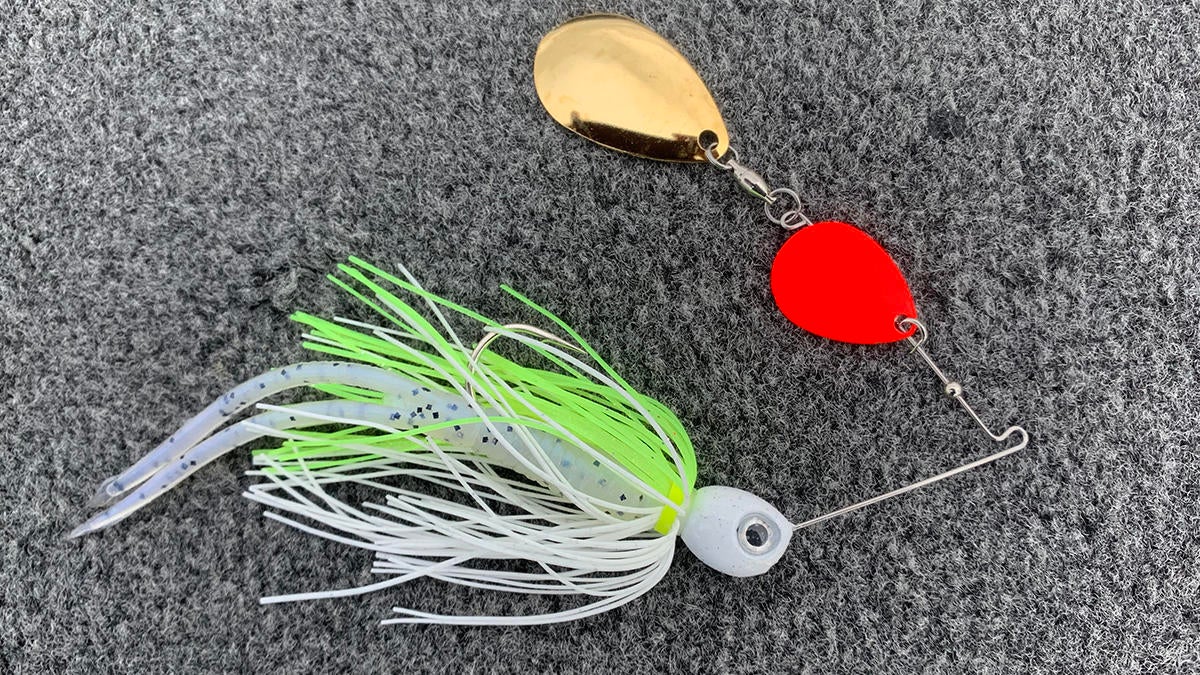 Jason Sealock
The Accent J. Wheeler Custom Spinnerbait features a Colorado / Indiana blade combo with larger Tear drop head design. It has a good keeper, casts well with the same action of their popular River Special model. This is a very popular model on the Tennessee River and Jacob Wheeler used this exact combination to win the first MLF BPT event of 2020 on Lake Eufaula. I like the 1/2 and 3/4 ounce options really well. You should be able to find them on TackleWarehouse.com in the next couple of weeks.
(2 of 10)
Advantage Bait Company Tandem Spinnerbait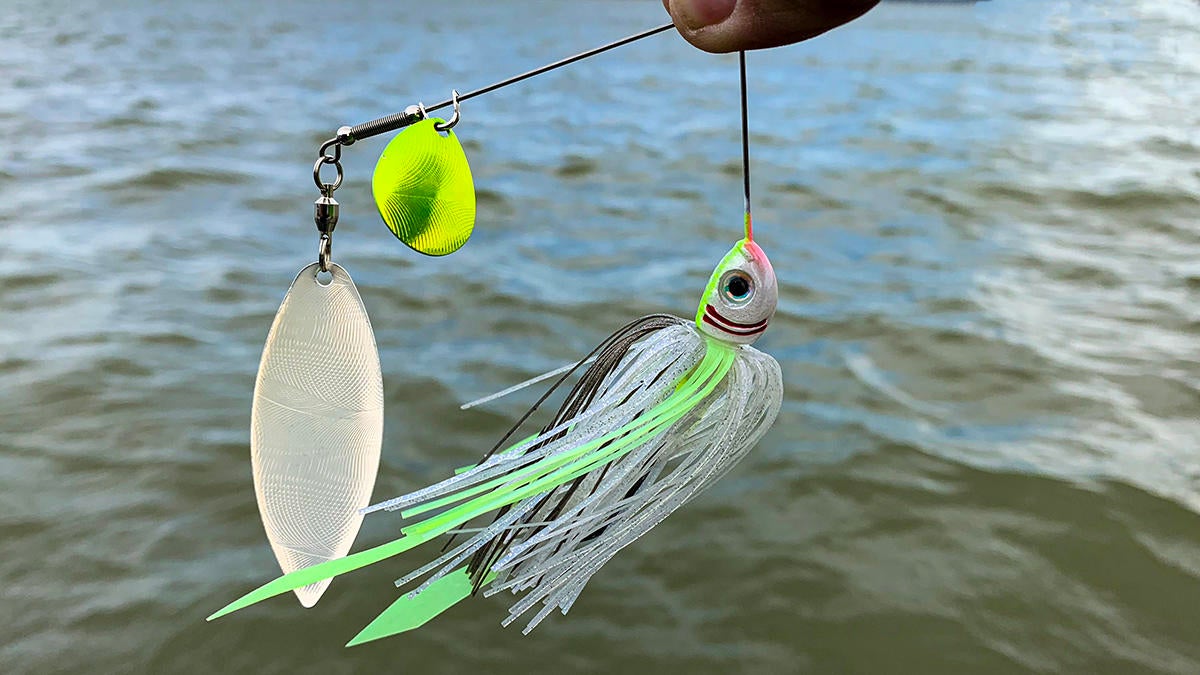 Jason Sealock
Advantage tandem spinnerbaits have become some of my favorite. Their 3/4 ounce version has been a staple of mine on deep ledges on the Tennessee River. It has an incredible hook, and bar none, the best blades you can get on a spinnerbait with their EFT (Extreme Flash Technology). But I especially have found that I like their Chartreuse kicker blade and white willow blade combination for low light. 
Four words to keep in mind for later this spring: early morning shad spawn. When the light is low early in the morning and late in the evening, stop throwing your nickel bladed spinnerbaits and pick up this one. You'll thank me later. The double willow is equally effective in this same color pattern. That skirt is called Threadfin Shad. You can find the double willows on TackleWarehouse.com or you can build your own at AdvantageBait.com.
(3 of 10)
Booyah Covert Series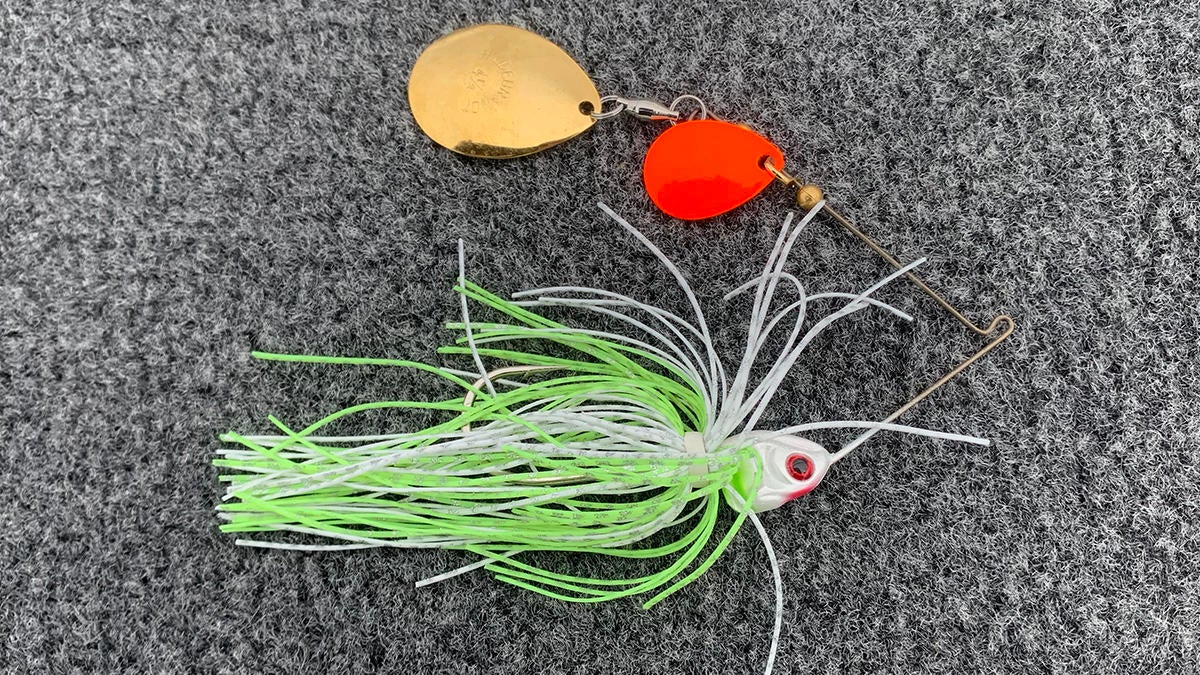 Jason Sealock
Jason Christie has become synonymous with kicker blade spinnerbaits for bass fishing. He and his father had been building a homemade version that has now been refined into the Covert series under Booyah. This spinnerbait features an angled head, light wire, Hildebrandt blades and high-end components to give you a top of the line spinnerbait at a decent price. 
It runs true, fishes well around cover and gives off a great flash in dirty water. That wire really transmits the thump you can feel, so it's easy to tell when a bass has rushed up on it. 
Check them out at TackleWarehouse.com.
(4 of 10)
Greenfish Tackle Ballistic Blade Double Willow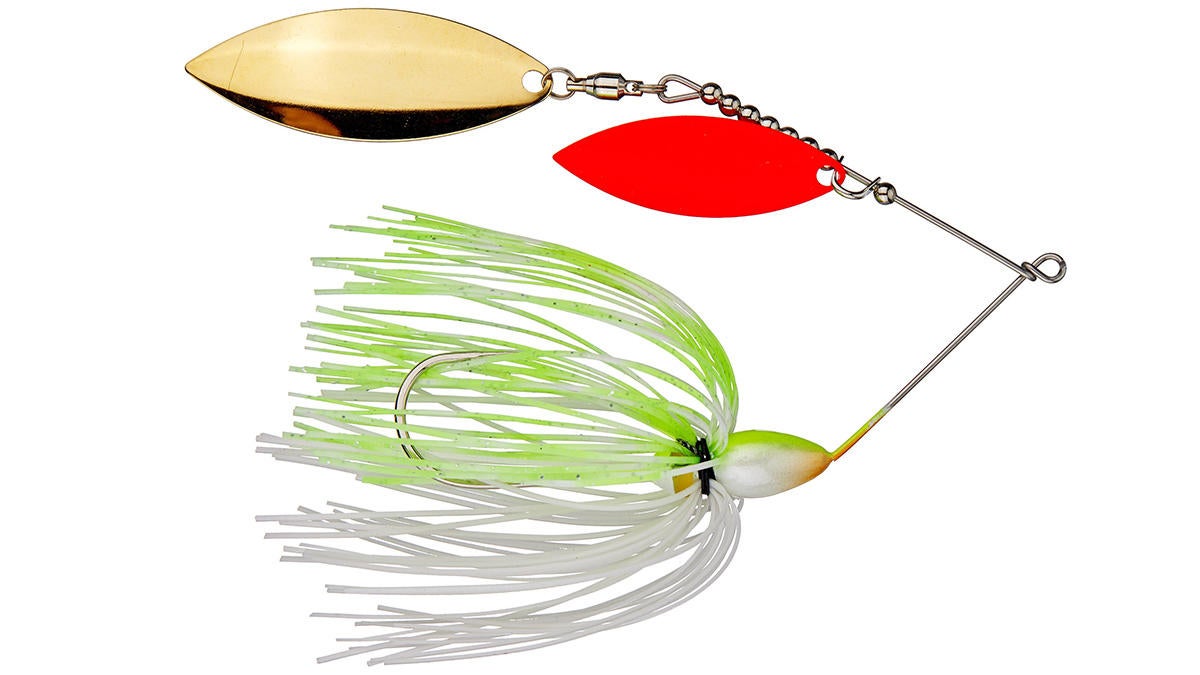 Greenfish Tackle
Greenfish builds premium custom-made tackle and these kicker blade willow leaf spinnerbaits are no exception.  Hand-tied skirts, painted orange kicker blade, bullet head, twisted wire and quality beads and swivels. It's a great spinnerbait at a great price.
Find it here on TackleWarehouse.com for $6.59. 
(5 of 10)
Nichols Colorado Willow Kicker Series Spinnerbait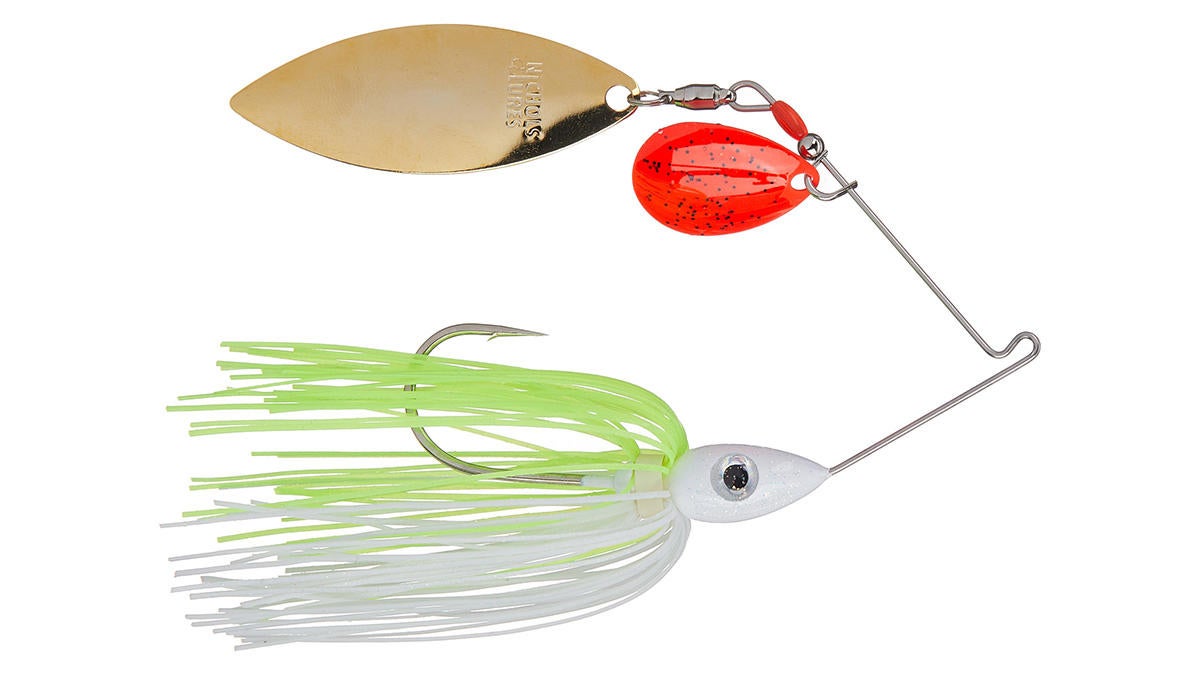 Nichols Lures
Nichols Colorado Willow Kicker Series is built off the Pulsator line of popular spinnerbaits. They feature a bullet head, quality blades and medium wire that offers good flex and vibration combination for a decent thump and good flash in this kicker color combination.
You can find them on TackleWarehouse.com.
(6 of 10)
Stanley Vibra Shaft Dirty Water Spinnerbaits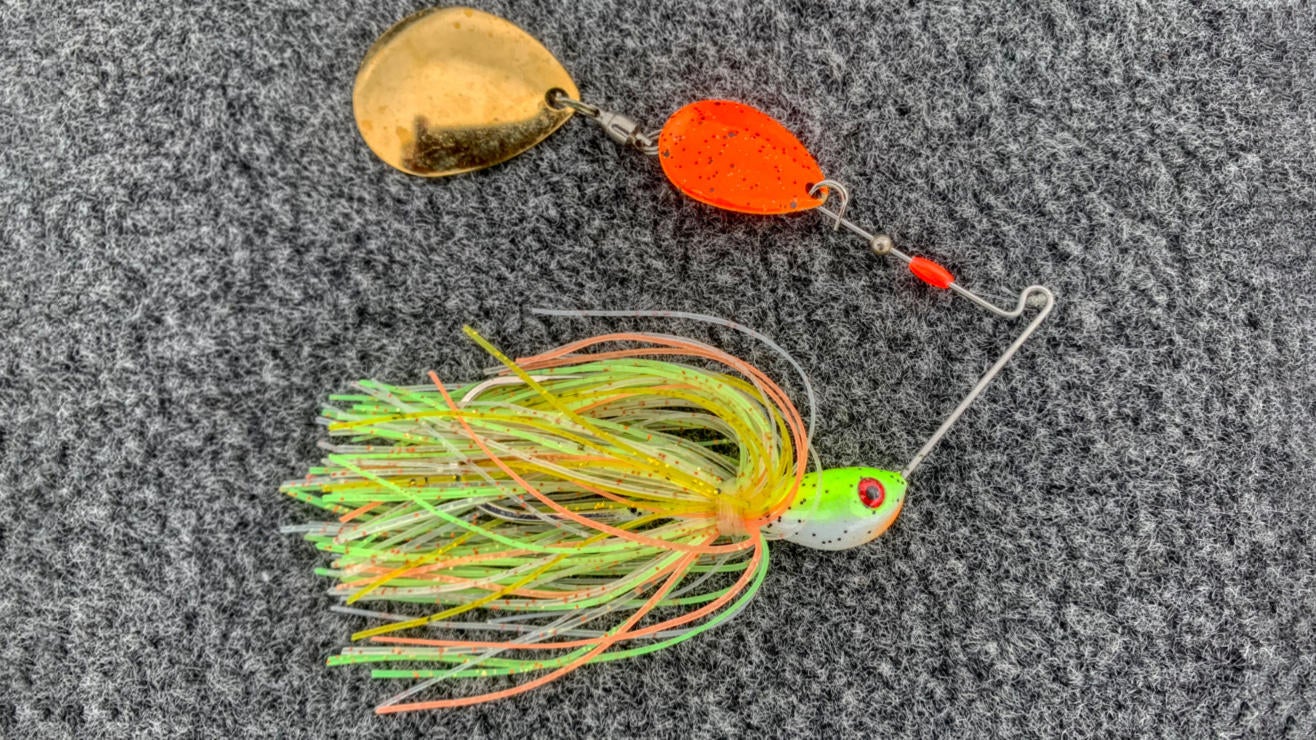 Jason Sealock
Stanley has been a staple for me for many years of fishing spinnerbaits all over the country. Their head design is one of the best for fishing around deep cover and on ledges and I love that they are now offering double Colorado bladed options for dirty water. I love this Red Perch color. It's one of my favorites the last couple of years for fishing muddy water here. The Vibra Shaft design tapers towards the blade forcing more vibration to the blades and a stronger spinnerbait towards the line tie which is what makes it so good in deep water too.
You can find these on the FishStanley.com website. Or if you're lucky like me, you have a local shop like Fast Eddies Bait and Tackle in Fairdealing that gets a bunch of custom ones made every year in the store.
(7 of 10)
Z-Man Sling Bladez Power Finesse Spinnerbait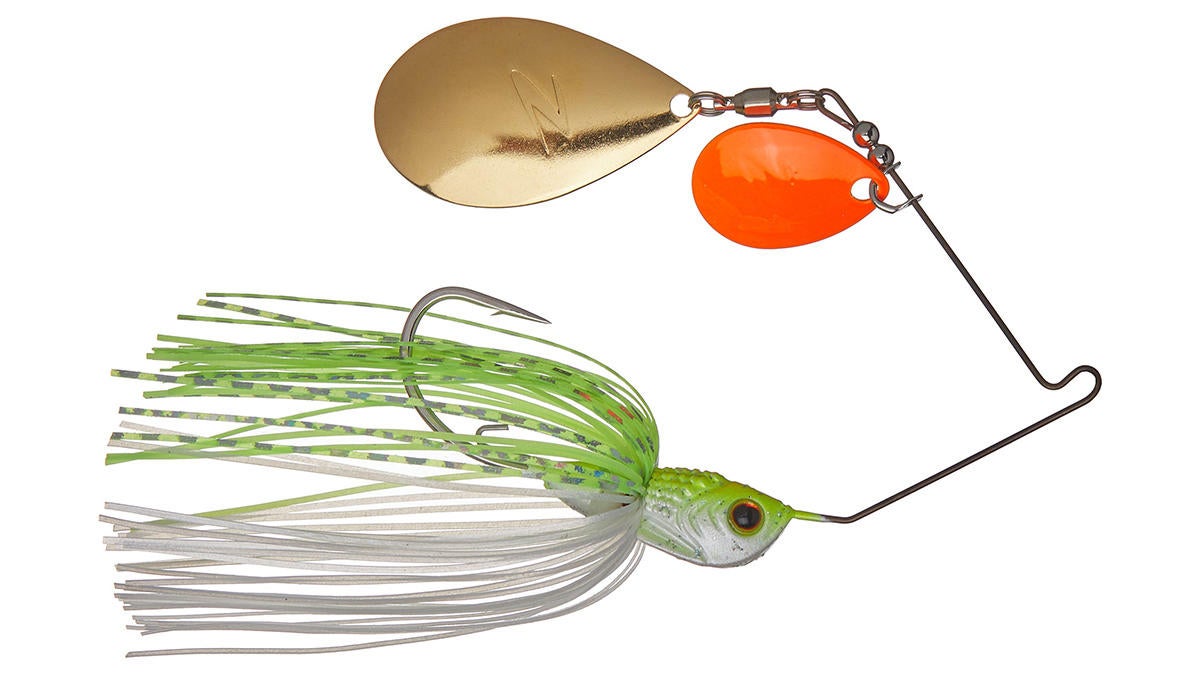 Z-Man
This new Indiana Colorado spinnerbait from Z-Man offers a good wire for a lot of vibration, custom tied skirts, an angled minnow head with the orange kicker blade option. It's a little more compact than some of the others and flexes really well. It comes in 1/4 and 3/8 options and I'm hoping they add at least a 1/2 ounce option. But these are solid spinnerbaits at a nice price.
You can find them at TackleWarehouse.com.
(8 of 10)
Zorro Bango Blade Spinnerbait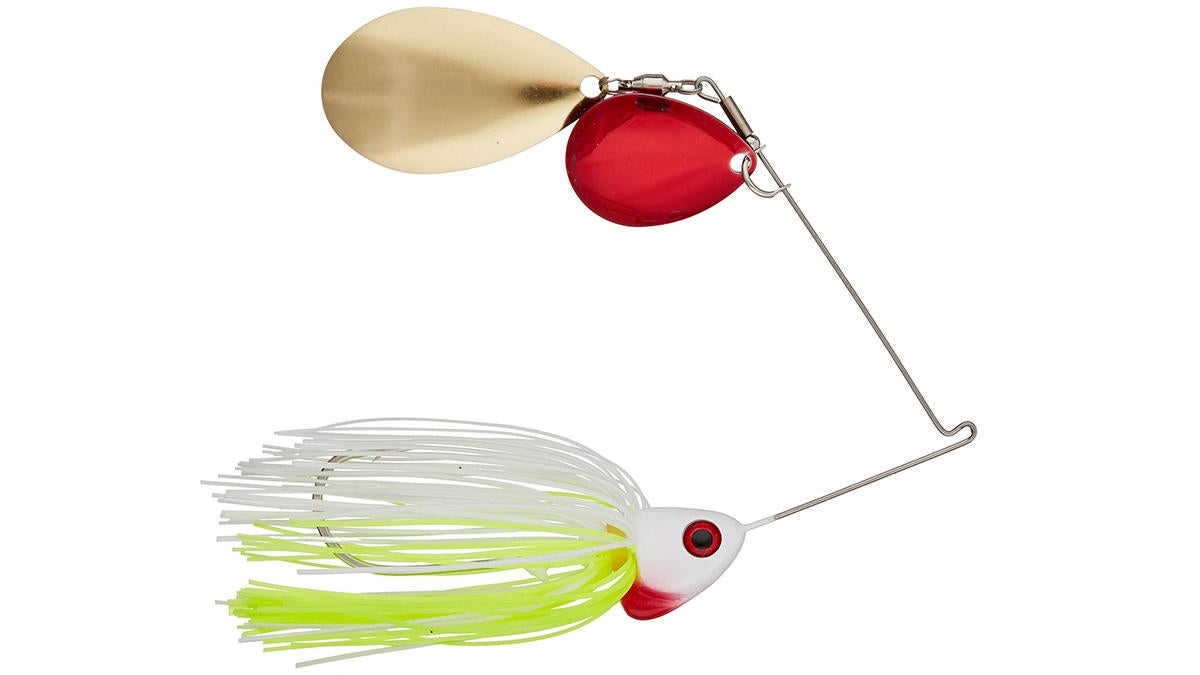 Zorro
Wesley Strader has made quite a name for himself from FLW, BASS Elite Series and now MLF BPT. If there is a spinnerbait bite, he's going to be a handful due in large part to his Bango Blade spinnerbait. This kicker blade offers a unique head design that makes it good around grass, wood, rock, and open water alike. 
It features a keeled head, thin wire for extra vibration and premium plated blades for increased flash. You can find them on TackleWarehouse.com.
(9 of 10)
Ace in the Hole Lures Hidden Weight Spinnerbait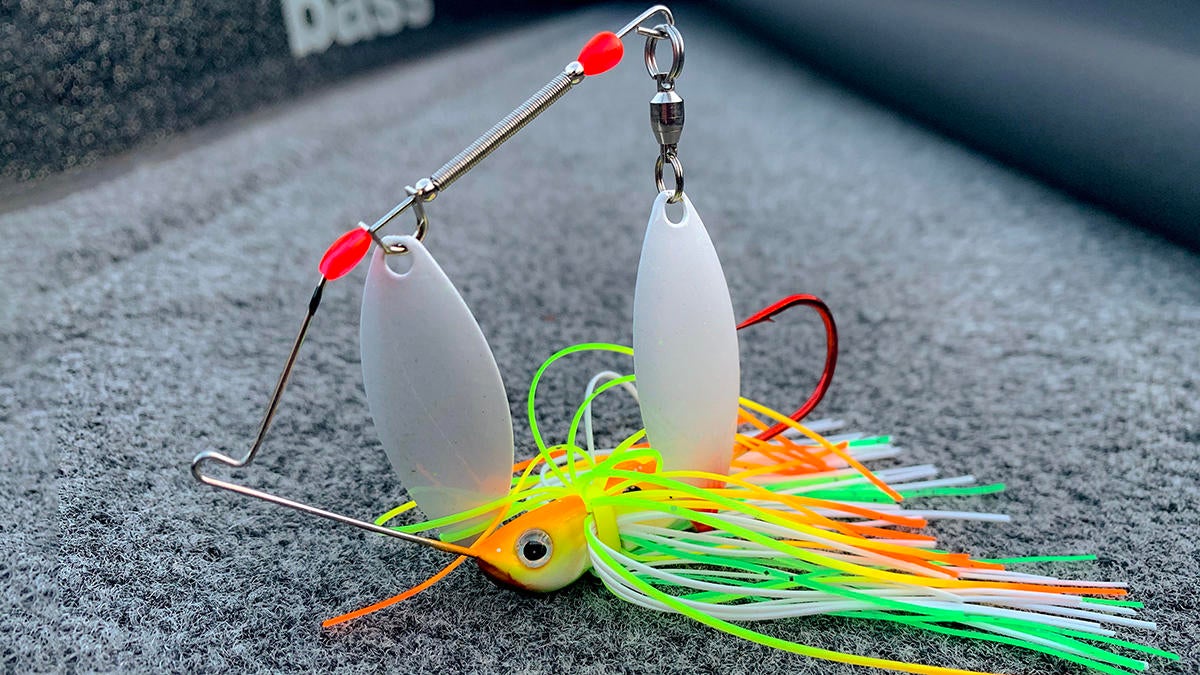 Jason Sealock
This is a hard-to-come by option, made by a good friend John Prior. He made one of the more unique spinnerbaits ever with his hidden weight spinnerbait more than a decade ago and has since perfected that trend-setting design with a super unique wire. But his real talent is in painting and his painted blades are as unique as the hard baits he custom paints. 
Instead of adding a "kicker blade" in front, which he will do at times. He often paints the back blade with a kicker color on the tip. Look closely at that first picture on this article and you will see the blood red tips to the blade. 
This spinnerbait has caught me a lot of big bass over the years and I've kept it quiet for a long time. But you might be able to twist John's arm to get him to sell you some now. He's setup a Facebook page where you can message him and inquire about them at Ace in the Hole Lures.
(10 of 10)
Get a kicker blade for spring spinnerbait bass fishing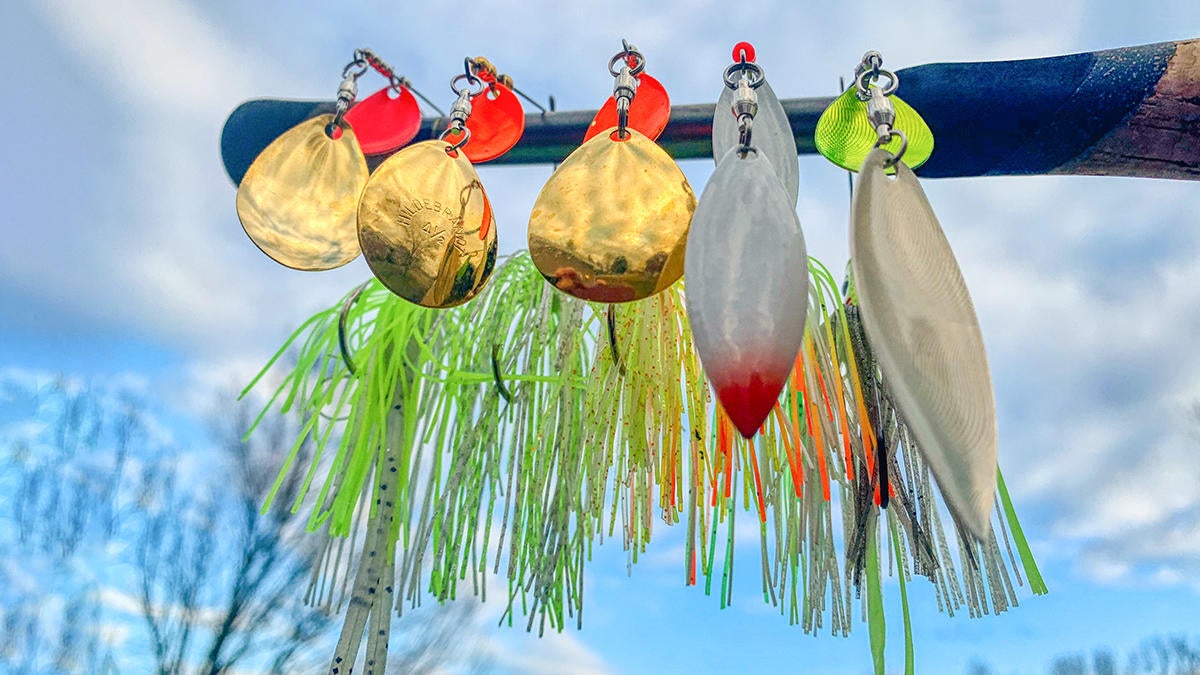 Jason Sealock
Don't miss out on one of my favorite bites of the whole year. Find some dirty water. Let it get up warmer than 55 degrees and get to thumping around in the shallows looking for those larger females lurking around looking for a big meal before the spawn. Thumping blades. Orange and chartreuse accents. And a bunch of fun times to be had. 
I would be interested to know what your favorite kicker blade spinnerbait combination is over on our Facebook page.