Strike King Lure Company and Lew's have both been known for quality products for decades. As the long-awaited 2021 Bassmaster Classic kicks into high gear this week in Fort Worth, Texas, both brands are launching some awesome new bass fishing gear. If you're lucky enough to attend this year's Bassmaster Classic expo, make sure to swing by their booths and check out some sweet gear!
(1 of 7)
Strike King Primal Fishing Line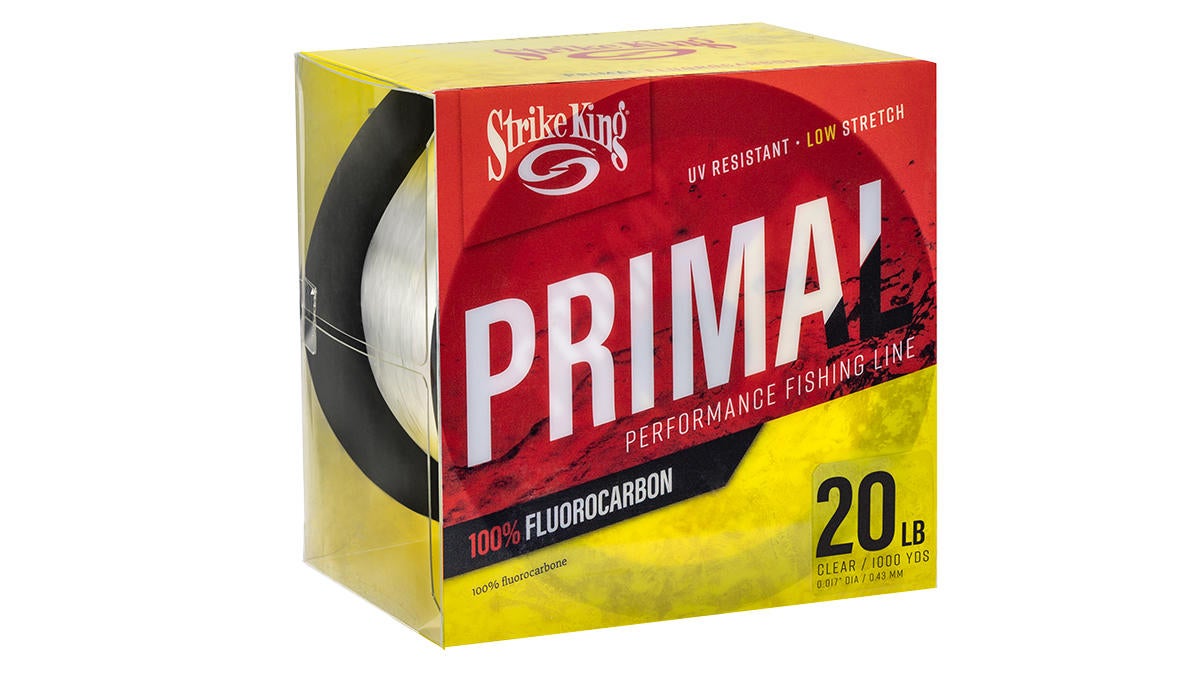 Rather Outdoors
Editor's note:Press release provided.
With so many fishing lines to choose from on the market today, Strike King has made the decision easy-just choose the best.
Introducing Strike King Primal, the innovative, performance-class fishing line that is priced for exceptional value. No longer will anglers sacrifice top quality line to find one they can afford.With Primal, anglers can expect the best of both worlds -next-generation performance and a reasonable price.
To develop the Primal Series of Fluorocarbon, Monofilament and Braid, Strike King turned to world class engineers and state-of-the-art manufacturing, as well as some of the top anglers in the sport.
MLF pro Andy Montgomery was an integral part of a team assembled by Strike King to take on the challenge to engineer a next generation line with unmatched performance-grade properties at an unbeatable price point. Montgomery, himself an engineer with a degree from Clemson, did not take the challenge lightly. "We were driven to create a line that would meet the demands of the serious angler," Montgomery said. "But I grew up fishing on a tight budget, and it was important to me to build a line that the average angler could afford."
The result is Primal.
Primal Braid is the solution when anglers demand strength, durability and handling.Montgomery noted that Strike King's efforts have yielded a braid with premium fibers, engineered for both strength and sensitivity. "And possibly the best feature of the Primal Braid series is how manageable it is on the water," said Montgomery."This line casts so smoothly and handles great on both spinning and casting gear."
Primal Monofilament is the answer for high-quality, value priced mono.Strike King used world class extrusion processes to deliver a line that offers incredible strength, increased sensitivity and handles like a dream.When you need mono that makes casting fun, holds up to big fish in heavy cover and is fair priced, look no further than Primal Monofilament.You can certainly spend more, but why would you?
More and more anglers are turning to fluorocarbon line for its strength and durability. In addition to withstanding abrasion, Primal Fluorocarbon is particularly resistant to deterioration from exposure to UV light which translates to longer life on the water. Ridiculous sensitivity, next-level abrasion resistance, and incredible handling characteristics are what define Primal Fluorocarbon, not price. Primal Fluorocarbon was designed to the exacting specifications and needs of Strike King pro anglers.This is high-quality, performance-minded fluorocarbon at a great price.
Additionally, as a testament to Strike King's attention to detail, each spool of Primal comes equipped with a Sidewinder spooling tool for unbelievably fast and efficient re-spooling on the water.
Anglers who stake their livelihood on high-quality, dependable line are turning to Strike King for the all-new Primal series of Fluorocarbon, Monofilament, and Braid. The monofilament comes in 200- and 1000-yard spools ranging from 6- to 20-pound test.The Fluorocarbon spools are available in 330- and 1000-yard spools ranging from 6- to 20-pound-test. Finally, the braid is available in 150-yard spools and 330-yard spools with the line rating from 8- to 65-pound test in both green and Hi-Vis Yellow.
StrikeKing'sPrimal Line will be available at finer sporting goods stores everywhere and will retail from $8.99 to $79.99 depending on type and spool size. Let your line be the workhorse, not your wallet.
(2 of 7)
Strike King Skip' N Buzz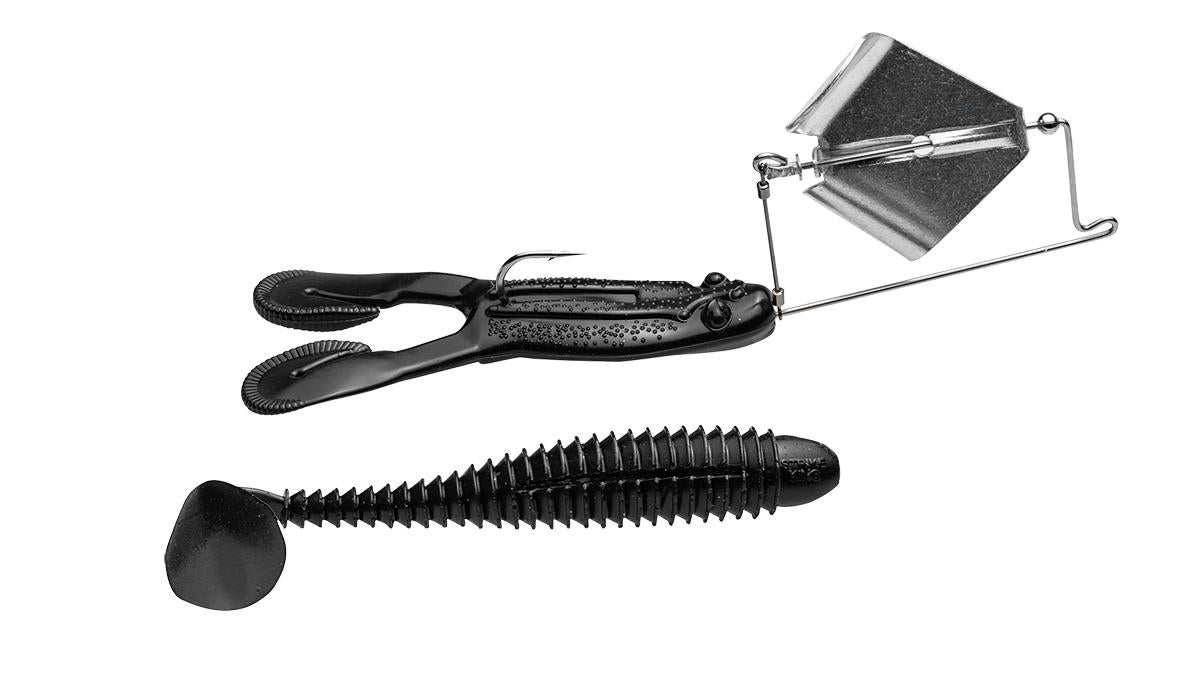 Rather Outdoors
Editor's note: Press release provided.
With a relentless drive to offer anglers new tools to catch more fish, Strike King Lure Company is pleased to announce the new Andy Montgomery Skip'NBuzz.This game-changing lure is specifically built to help anglers target out-of-reach fish in places where few baits will go.The legendary Strike King buzzbait, with a new design twist, is reshaping the way anglers find and catch fish.
To engineer this innovative design, Strike King turned to arguably the most proficient skipping and pitching angler on the water, Bass Pro Tour veteran Andy Montgomery.For two of his tour-level wins in his career -on Lake Norman and Smith Lake -the Blacksburg, SC native credits his ability to skip a lure into the dark recesses underneath a dock to target tournament-winning fish.
He said it took a company like Strike King to capture his extended vision for lure offerings. "My guys at Strike King and I designed this buzzbait to go where other buzzbaits just don't go, and you can cast and pitch them too." Montgomery said. "Overall, it is an amazing lure to run down the bank with and fish whatever comes your way without changing lures. But, there is simply nothing better than to skip it under a low hanging tree or put it beneath a dock and hear the explosion of the strike."
To augment the skipping design of the buzzbait, Montgomery and Strike King also replaced the traditional buzzbait skirt with a soft plastic Strike King Toad. The bait is also sold with an interchangeable Rage Swimmer.
The Andy Montgomery Skip'N Buzz comes in four colors. Andy favors the white design when fish are targeting shad. In low light conditions, and when fishare feeding on bluegill, Andy will switch to a green pumpkinseed or black to get the job done, and pink when the fish want something different.
The Skip'N Buzz will be available in a 3/8-ounce size with an MSRP of $8.99.
(3 of 7)
Strike King Catawba Polarized Sunglasses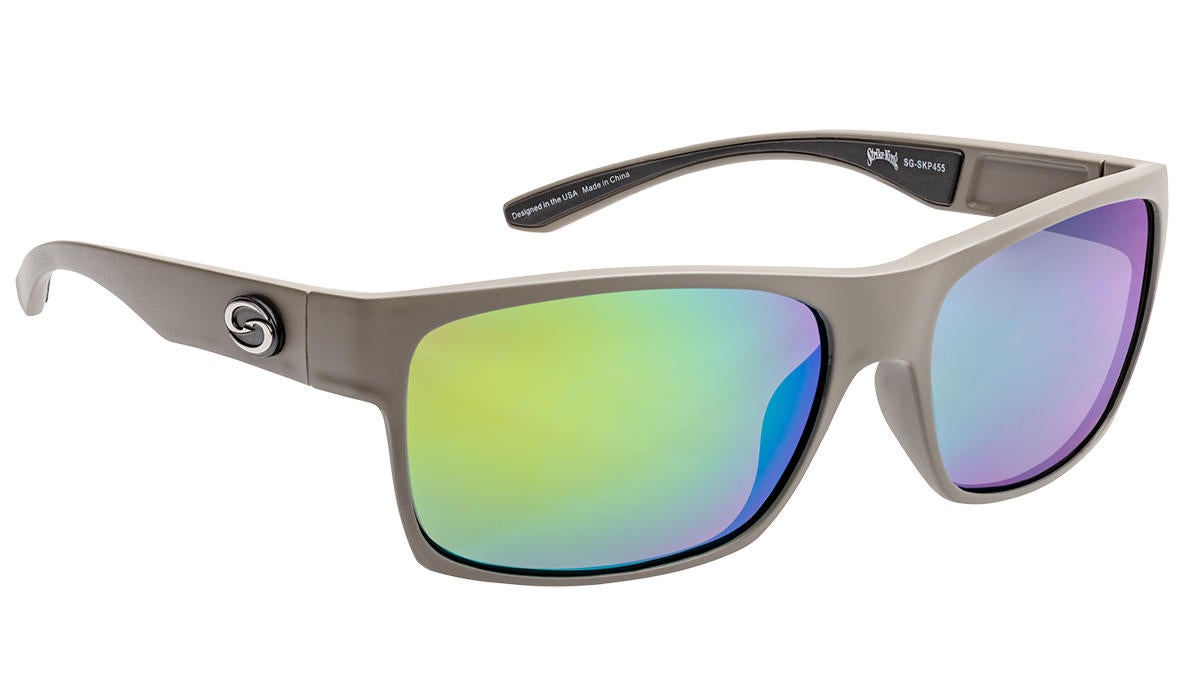 Rather Outdoors
Editor's note: Press release provided.
Strike King's new Catawba sunglasses offer exceptional performance at a great value. The Catawba features specifically designed TAC (Tri-Acetate Cellulose) polarized lenses for unequalled performance. The TAC lenses are stable in all weather and humidity conditions and will never compromise in optical quality.
Tour veteran Danny Brauer is an absolute believer in the importance of wearing his Strike King Catawba sunglasses on the water. 
"It goes far beyond sight fishing for me," offers Brauer. "These glasses are an absolutely essential part of identifying bottom contour and finding structure, rock and weed lines that I would otherwise not see.Once you fish with them, you won't take them off."
(4 of 7)
Strike King Rogue Polarized Sunglasses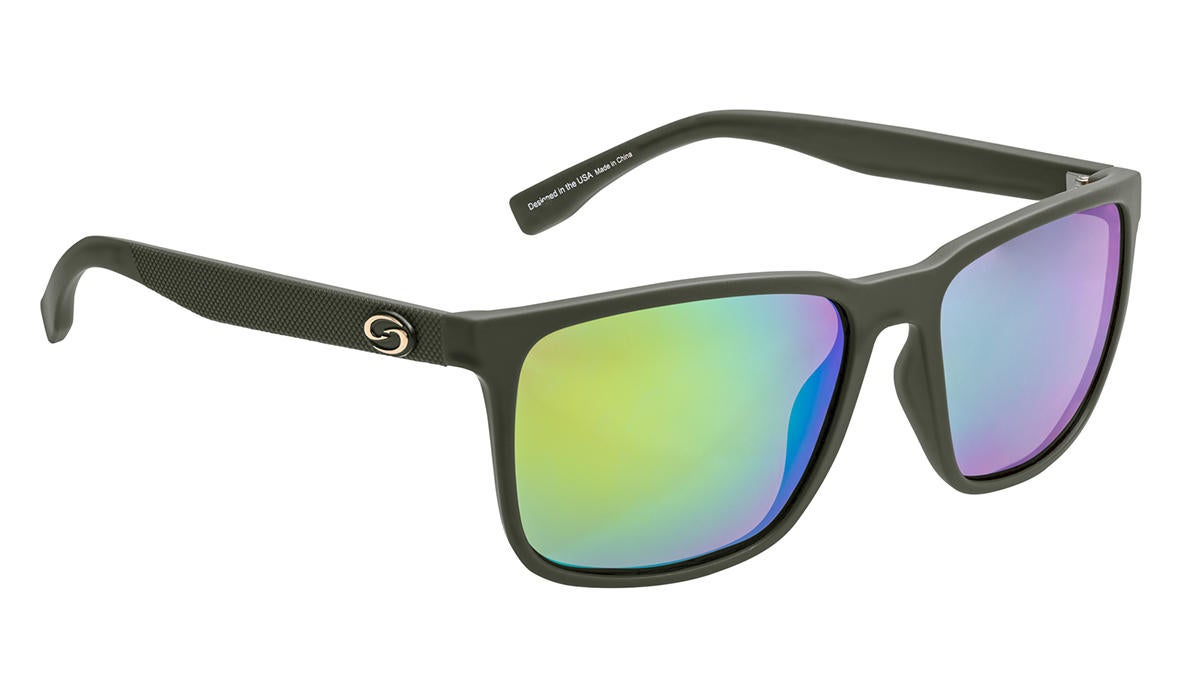 Rather Outdoors
Editor's note: Press release provided.
For more than a quarter of a century the Strike King Lure Company has crafted the most dependable and stylish fishing eyewear in the industry. Strike King is back in 2021 with a new lineup, delivering new styles, and even better science.
Introducing Strike King Rogue: The next generation fishing sunglasses.
Strike King's remarkable engineering behind the multi-layer lens is what sets Rogue apart from the competition. The super hydrophobic top coating of the Rogue lens stops condensation from absorbing into these 100% polarized optics, keeping the angler's vision free from water obstruction, while several subsequent layers of the lens shed dirt and debris. Most critically, seven separate layers provide anti-reflective defense to fight glare from the sky above, as well as from the surface of the water below.The result is a cleaner, clearer, higher level of subsurface vision, precisely what is most important to the serious angler.
MLF Tackle Warehouse Pro Circuit angler James Niggemeyer is never far from his Strike King Rogue Sunglasses, whether fishing in overcast or sunny conditions.
"One of the toughest challenges is actually the glare coming from the surface of the water," explains the Van, Texas pro. "It gets in the way of safe boat operation, and it definitely gets in the way of fishing.The Rogue 11-layer lens cuts through that glare, giving me the edge." Niggemeyer uses the Rogue Grey Lens when fishing in bright, sunny conditions and prefers the Amber Lens when fishing under overcast skies. 
(5 of 7)
Revamped BB1 Pro Casting Reel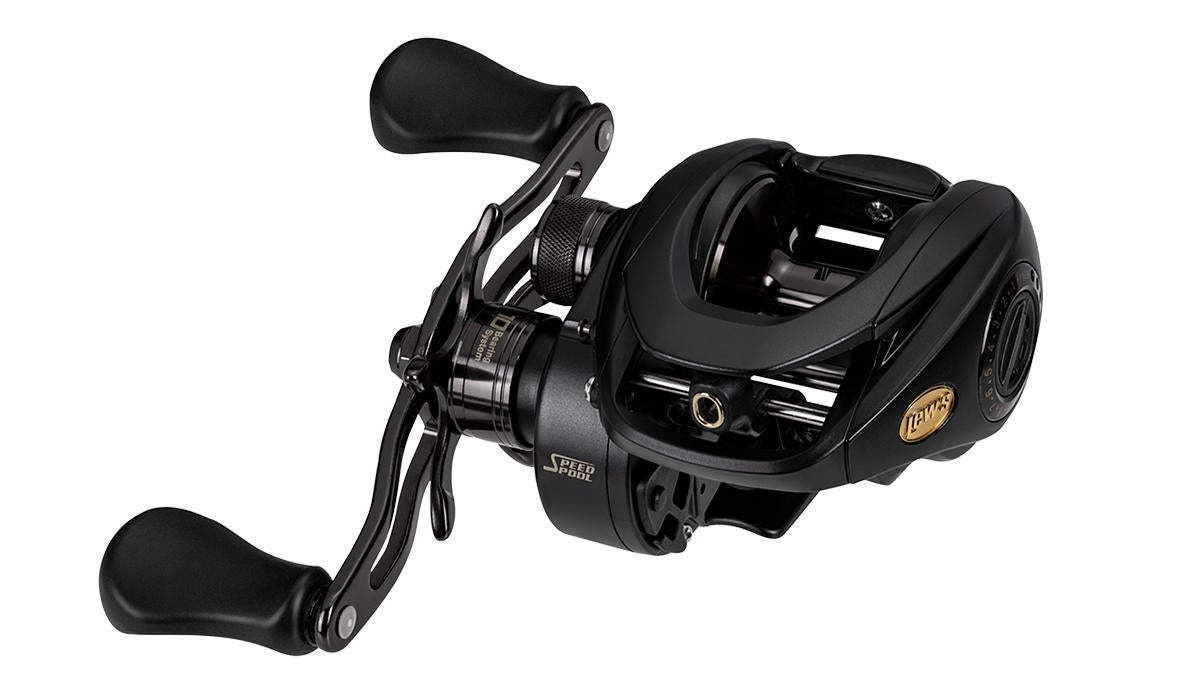 Rather Outdoors
Editor's note: Press release provided.
Ever fine tuning, Team Lew's has redefined exceptionalism with upgrades to a fan favorite with the introduction of the new BB1 Pro LFS Baitcasting Reel. The BB1 Pro has been a mainstay on the professional angling circuit since its introduction in 2012. The new BB1 Pro offers additional features for anglers who are serious about their pursuits, including an ergonomically tapered lightweight aluminum frame with graphite side plates, and Lew's new custom paddle grips. These elements are a must for long hours on the water under tough fishing conditions, when comfort and ease of use are critical.
What sets the BB1 Pro LFS apart is the performance of the 27-position QuietCast Adjustable Centrifugal Braking System, delivering precise control of spool breaking and exceptional casting. Major League Fishing Pro Angler and 2018 FLW Angler of the Year Mark Rose is a devoted fan of the BB1 Pro, calling it a staple in his lineup. "Bottom line, this is the best reel you have ever had in your hands for long casting," Rose said. "There is nothing out there that can compete with the BB1Pro. It is easy to cast, and to cast far. To top it off it is great for quick adjustments on the water."
An additional feature on the BB1 Pro LFS is the dual stage titanium-coated line guide, which is positioned farther away from the spool for reduced line friction and maximized casting performance. This longer distance from the line guide to the spool is what 2014 Bassmaster Angler of the Year Greg Hackney calls the "beauty of the BB1 Pro" in making longer casts. "That increased distance from the line guide to the spool, as well as the capacity of the BB1 Pro spool itself, is what gives this reel its casting ability," said Hackney."Bottom line, in 20 years of professional tournament fishing, the BB1 Pro is the finest cranking reel I've ever held in my hands."
The new BB1 Pro LFS Baitcast reel is available in three gear ratios. The PRO1H model sports a 6.2:1 ratio. Most anglers favor the 6.2:1 ratio for deep cranking, though it also performs well with spinnerbaits, swimbaits and a bladed jig like the Strike King Thunder Cricket.
The7.5:1 gear ratio makes for an exceptional multi purpose reel perfect for jerkbaits, topwaters and a variety of applications.
Anglers looking for a high-speed reel will find the 8.3:1 ratio of the PRO1XH to be ideal. This higher ratio is perfect for fishing applications that require an angler to rapidly take up line, such as when reacting to a frog bite, or pulling in slack before setting the hook on a soft plastic. For pitching, flipping, or even slowly crawling a deep jig or Carolina-rig, the 8.3:1 is a good choice.The 6.2:1 and 7.5:1 gear ratio models are also available in left-hand models.
The BB1 Pro will retails for an MSRP of $199.99, and will be available in the Fall of 2021
(6 of 7)
Team Lew's Signature Series Rods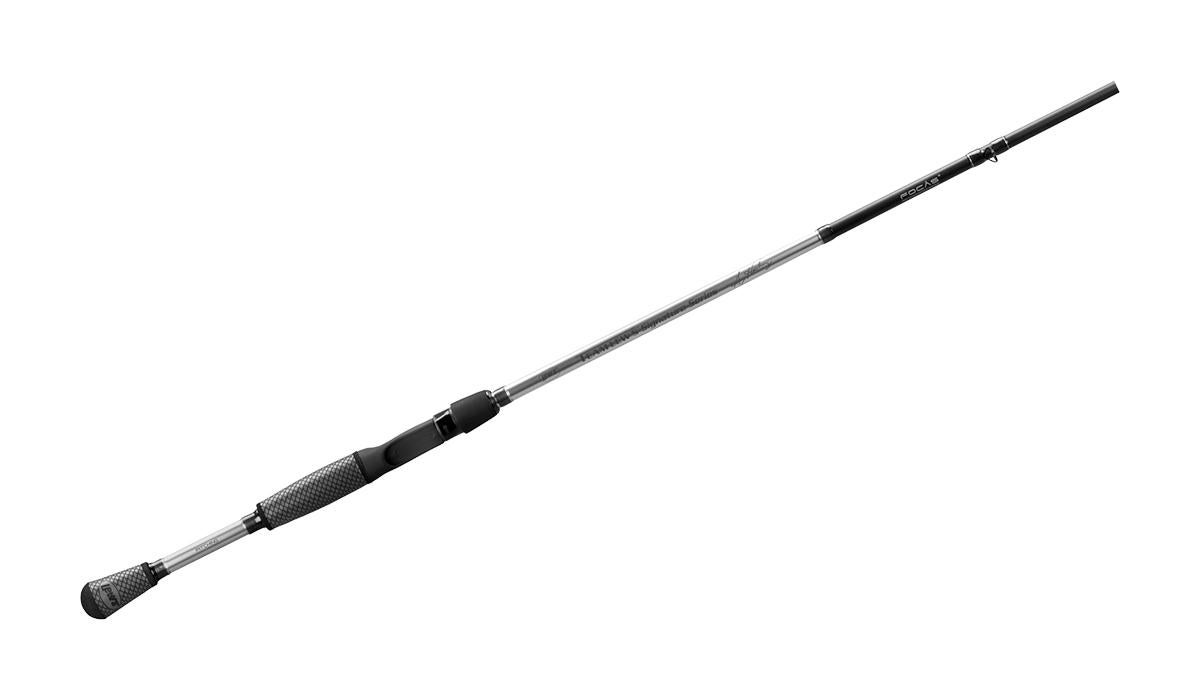 Rather Outdoors
Editor's note: Press release provided.
Team Lew's is pleased to announce the long-awaited release of the Signature Series rods. This rod is the product of three years of research and development by the hard-charging innovators of Lew's. It has been battle tested by the unrelenting and most demanding pro staffs in the industry. Hold a Signature Series rod in your hands and you are holding cutting edge innovation. The first-class technology of the Signature Series rods results in game changing performance on the water. 
What sets the Signature Series apart from other rods in the pro model space is FOCAS Blank technology. This multi-layered graphite blank production process - used exclusively by Lew's - delivers 75% greater tip strength and overall blank durability. And most critically, this innovative strength design preserves superior sensitivity.
With the introduction of the Signature Series, Lew's combines brutal strength with the lightest touch, features that are typically not achieved together in a fishing rod lineup. 
Signature Series rods also feature next WINN'S generation polymer Dry-Tac ULTRA Grips, delivering complete rod control. With the Dry-Tac Ultra system, anglers experience the superior rod handling they have come to expect from Lew's, resulting in tighter, more accurate casting, more controlled fish fighting, and the all-day comfort that is critical to serious anglers. The Dry-Tac ULTRA system provides anglers with a solid grip while fishing in all conditions.
Keeping in line with Lew's tradition of attention to often overlooked details, all Signature Series rods also feature SEAGUIDE RA Premium Aluminum Oxide guide inserts, yielding consistently smooth casts and durability with all line types.
"Our core value at Team Lew's is integrity. When our team puts a Signature Series rod in the hands of our customers, we must do so knowing that we are delivering a product that has been made with the finest quality materials, and is worthy of their hard-earned investment," said Bob Brown, Director, Director of Product Development for Lew's. "We must have the confidence it will enhance their entire experience on the water, and that it is built to perform and to last; that is our mission with each Signature Series rod."
There are 18 different actions that have been meticulously tested and tweaked to be perfectly aligned with the needs of five of the top names in fishing. Each Signature Series model is designed to be the precise action for the techniques these anglers are known for being the best in their fields.
TLS610MH - Topwater, TLS70M - Spinnerbait, TLS70MH - Spinnerbait/ Target Rod, TLS70M-CB - Squarebill/ Red Eyed Shads
"At this point in my career, I only use the best. I fish hard, and I am demanding on my gear. I designed the KVD Signature Series rods to meet the rigors of my style of angling," said Major League Fishing pro and bass fishing legend Kevin VanDam.
TLS69H - Skipping, TLS71H - Skipping, TLS73MH - Thunder Cricket
"These rods are built by folks I trust. By people who understand serious angling. They are built to deliver results, and they are built with integrity," said Major League Fishing BPT pro Andy Montgomery. 
TLS72H - Jig/Worm, TLS75MH - Carolina Rig, TLS76MH - Swimbait, TLS711MH-CB - Deep Crankbaits
"This series is very personal to me. Before my signature is stamped on a rod, you can be sure that I have the confidence it will meet the demands of the anglers who will be buying them," said Major League Fishing pro and former FLW Tour Angler of the Year Mark Rose.
TLS610MXFS - Shakey Head, TLS70MXFS - All-Purpose, TLS72MXFS - Tube Crackin' Special, TLS74MXFS - Power Finesse
"With my style of spinning, sensitivity is key. I have no patience for missing even the slightest strike. This was my most critical request for my friends at Lew's - build a rod with exceptional sensitivity - and Team Lew's delivered," said Mark Zona, host of Zona's Awesome Fishing Show and The Bassmasters on FS1
TLS73H, TLS76H, TLS711H
"Power and speed are so important to my style of pitching a jig and throwing a frog.  I need a rod that is strong enough to pull a fish out of heaviest of cover, and a lesser rod just won't cut it.  Our team at Lew's has built a rod that will do the job," said Bassmaster Elite Series pro, a Bassmaster and FLW Tour Angler of the Year and Forrest Wood Cup Champion Greg Hackney.
The Team Lew's Signature Series will carry and MSRP of $179.99 to $189.99 and will be available in the fall of 2021
(7 of 7)
Kickin' Their Bass Baitcasting and Spinning Combos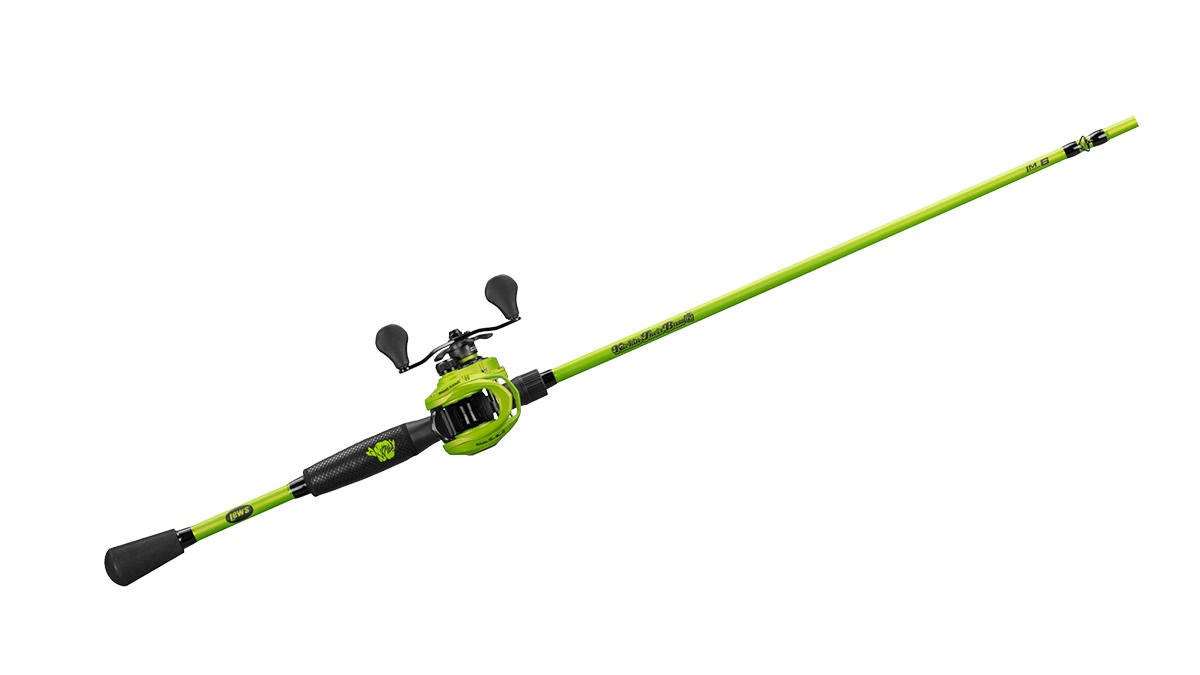 Rather Outdoors
Editor's note: Press release provided.
Kickin Their Bass TV's Noah Pescitelli, Internet sensation and fishing's newest rising star, has a maxim in life and in fishing;Put your head down and work hard.This sums up why Team Lew's is proud to partner with Noah to introduce, new for 2021, the Kickin' Their Bass baitcasting and spinning combos.This combo is a legend in the making as the sturdy workhorse in an angler's arsenal.
"I fish hard, and I fish often," Pescitelli said at the announcement of the combos. "I wanted to create a combo at an affordable price while maintaining an exceptional performance."
The Kickin Their Bass reel is built on a sturdy, yet lightweight, SLP graphite frame with high strength and solid brass Speed Gears. The premium 4+1 stainless steel, double shielded bearing system is built to last, and the durable Rulon drag system provides up to 15 pounds of fish fighting power."
This rig can take serious pressure, but my favorite feature is the versatility," Pescitelli proclaimed."My fans don't want to haul 20 different combos around a farm pond or a private lake; they want two or three rigs that can get the job done," he said."I use the 7'-1"medium-heavy baitcasting combo to fish soft plastics, crankbaits, and topwater. The7'1 medium heavy combo is one of the most versatile in the market.
"Pescitelli leans on the Kickin' Their Bass spinning combo for its versatility and strength as well. The 7'-1" Medium Fast spinning combo has the strength to pull fish out of heavy cover but is light enough and sensitive enough for any finesse application. "It is the perfect set up for a drop shot, a weightless Texas rig, or a jerkbait," Pescitelli added.
This versatile spinning combo is also ideal for those fans who aren't yet fishing a baitcasting rig. "I would not be afraid at all to throw a crankbait on this combo oruse it to drag a big worm across the bottom," he said.For the legions of Pescitelli's fans who only have a handful of rods in their arsenal, the Kickin' Their Bass Spinning combo is a must.
Both the 7'-1 Medium Heavy Baitcasting rod and the 7'-1 MediumFast Spinning rod are built on premium IM6, high modulus graphite blanks, with stainless steel and zirconia line guides and inserts. Both rods feature Lew's exclusive graphite skeletal real seat for light weight and sensitivity, and with the popular Winn Dri-Tac grip and EVA rod butt for all day fishing comfort.These rods are priced for great value at with the spinning combo 89.99 MSRP and the casting combos 139.99 MSRP.