Jason Sealock
I was excited to see St. Croix was launching a new line of rods and trying to bring as many high-end components and technologies into a lower price point with a rod built in Park Falls, Wisconsin. Their new Victory line of rods would be a "victory" for anglers. A lot of time and effort, more than three years, has been put into the development of these rods, and what they learned along the way is actually going to be applied in other rods going forward. Here's a little of what I learned fishing with and researching these new rods.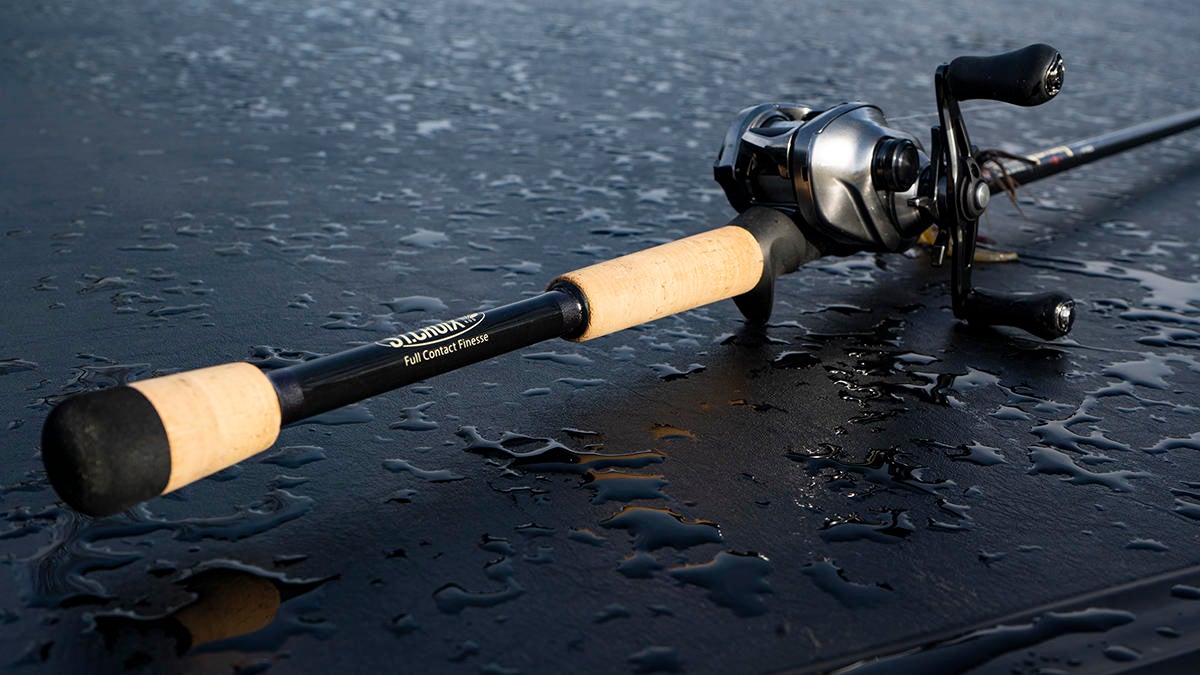 Jason Sealock
The new Victory Rods from St. Croix offer a very clean looking and feeling rod. Nice cork grips, a really nice clean blank with great components the length of the rod. It's the total package in terms of durability, strength and sensitivity while also being a good looking bass rod. 
(2 of 7)
Power and Finesse in One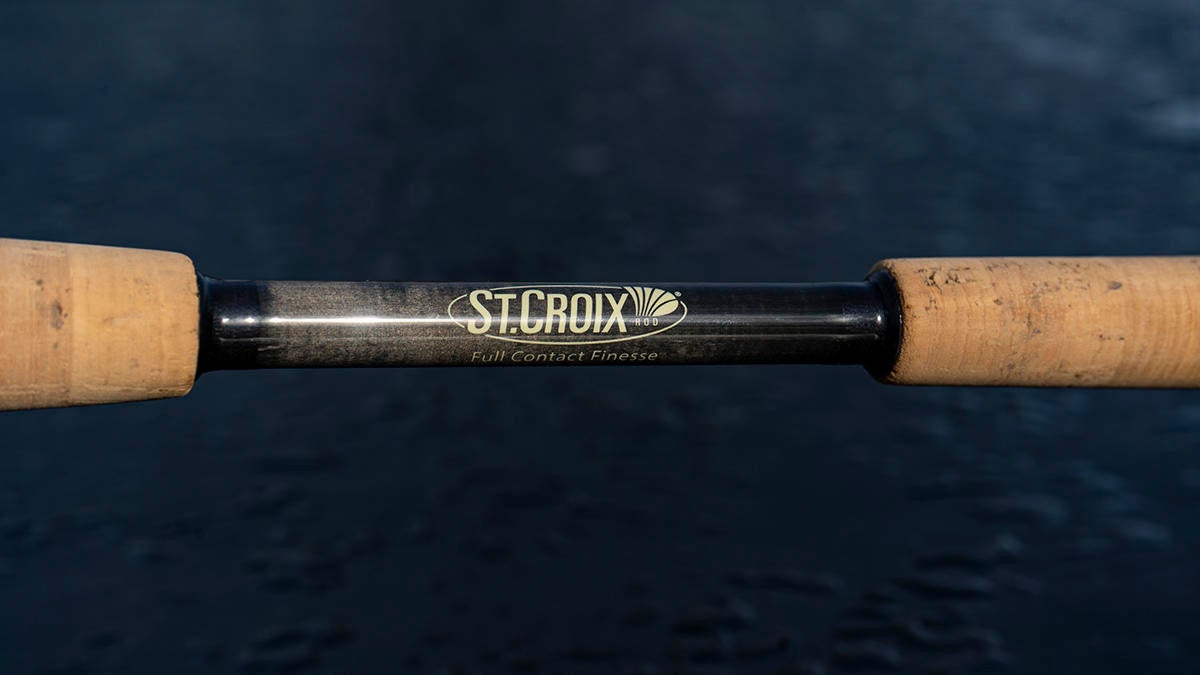 Jason Sealock
While they are introducing new rods with the Victory Rods they are also introducing new technology and even new rod build outs in terms of power, action and taper combinations that St. Croix has never done before. 
So when they sent me the list of rods that were coming out, the Full Contact Finesse rod stood out to me. That sound like a rod where I could be stealthy fishing around shallow cover but be able to crack a big one when he bit on a stump or a laydown tree or under a dock. 
They are able to achieve that perfect blend of power and finesse because they actually blended two of their best materials into a new material they are calling SCIII+. It combines SCIII materials found in Avid, Mojo Bass rods with SCVI materials which are super high modulus exotic makeups that have to be blended with other graphite materials to provide more backbone and power without losing finesse actions and sensitivity.
(3 of 7)
Fine components and craftmanship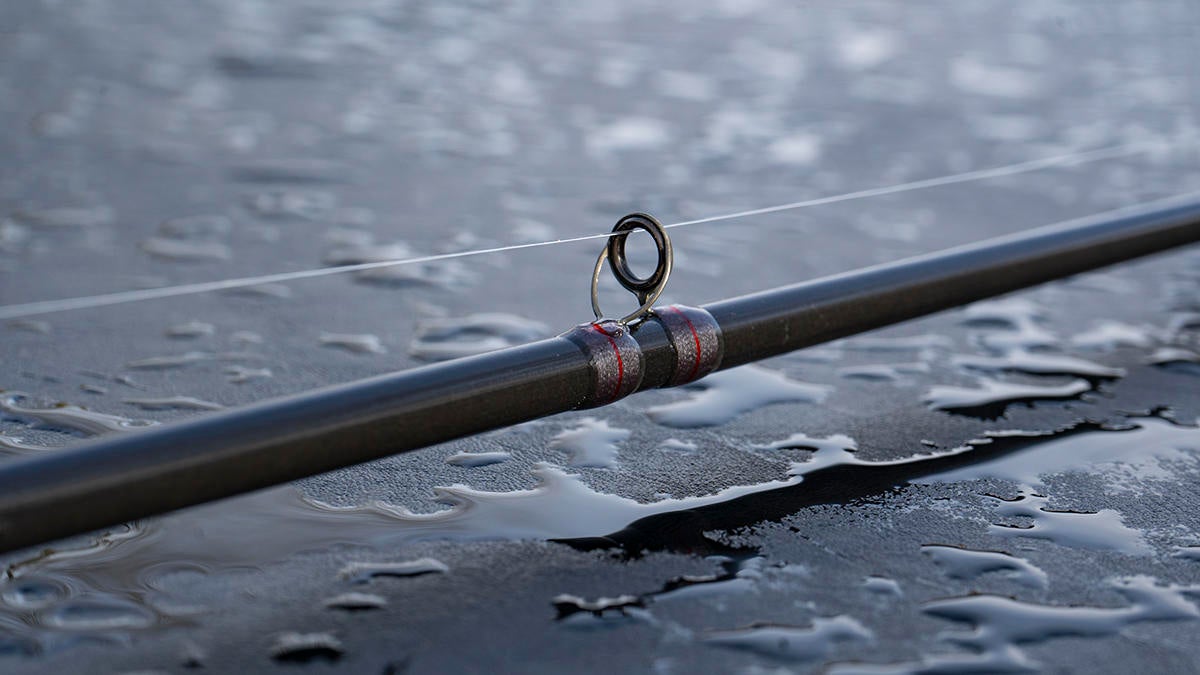 Jason Sealock
The Victory Rods feature the following components:
Fuji Concept "O" guides with deep press inserts
Fuji SK2 reel seat on casting models with comfort centric complimenting componentry
Fuji KDPS reel seat nut on spinning and casting models with thread covering hood
What that translates into is much smoother casting, added sensitivity while also adding comfort while it's palmed in your hand. These components and the way the rods are produced also keeps the weight way down. Like my Full Contact Finesse rod weighs only 4.3 ounces and it's the heaviest of the 8 rods in the initial introduction. The spinning rods are as light as 3.1 ounces.
This rod was a lot of fun to flip a jig on isolated shallow cover in the last few outings this spring. It's light, comfortable, and very strong. 
(4 of 7)
Great rod balance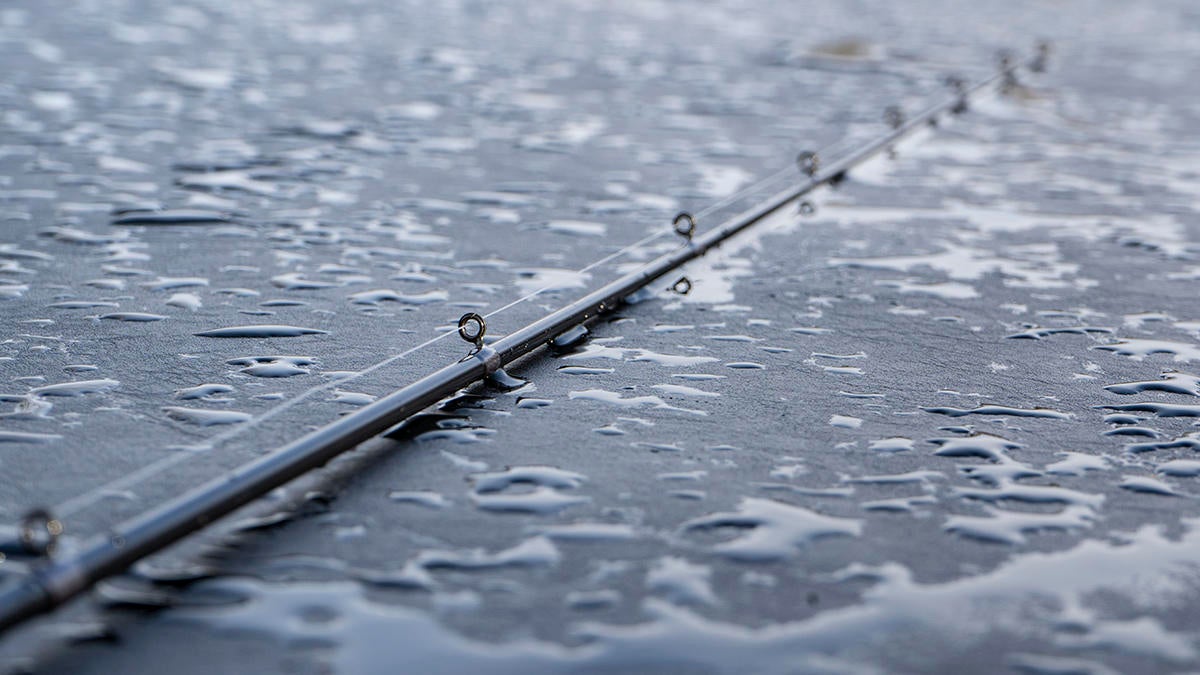 Jason Sealock
Rod balance is an often overlooked attribute in rod design, in my opinion. They make rods to be light, to have certain tip action or taper to handle certain techniques, but the way the rod balances with a reel on it is sometimes an afterthought. 
This was one thing St. Croix really got right with the Victory rods. They studied and perfected the rod torque on these rods which is basically the weight on the rod in front of the reel and how much it pulls your rod down.
So if a rod has too much torque pulling the tip down, you will feel like the rod is "sluggish" and what a lot of us call "tip heavy." A tip-heavy rod translates to a lot of forearm strain after several consecutive long days on the water because you are constantly applying extra unnatural effort to keep the rod tip up. 
The St. Croix Victory rods were painstakingly tested for balance with an average of popular reel weights on them to ensure you get a rod that feels good on the cast and the retrieve and doesn't add extra fatigue to your hands and forearms. 
(5 of 7)
Great feeling and casting rod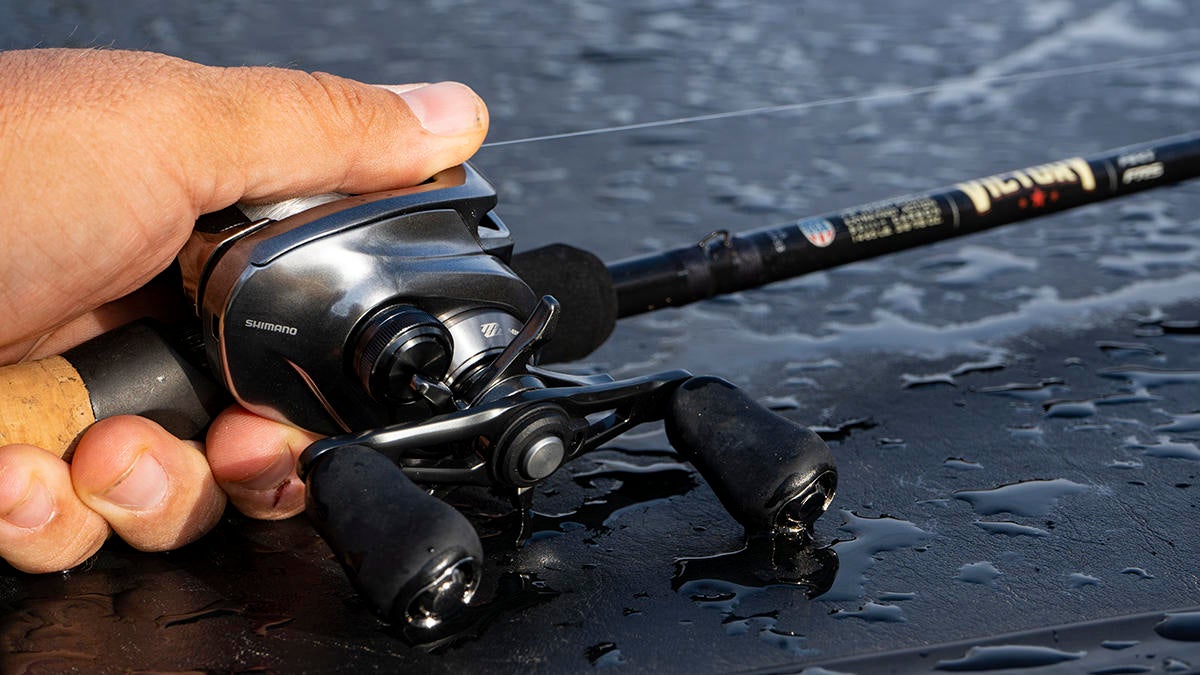 Jason Sealock
Put it all together and I was very pleasantly impressed with how the Victory rods handle roll casting and pitching light finesse jigs and small trailers around isolated targets in real shallow water. It's nice to be able to make precise casts, get a quick bite and control the fish from the minute you lean into them. It can be difficult to get a rod that's not a broom stick that has a lot in the trunk but has enough action on the tip to whip a small lure into tight places. The Full Contact Finesse Victory Rod definitely fits that bill.
(6 of 7)
Lots of Actions coming to Victory Line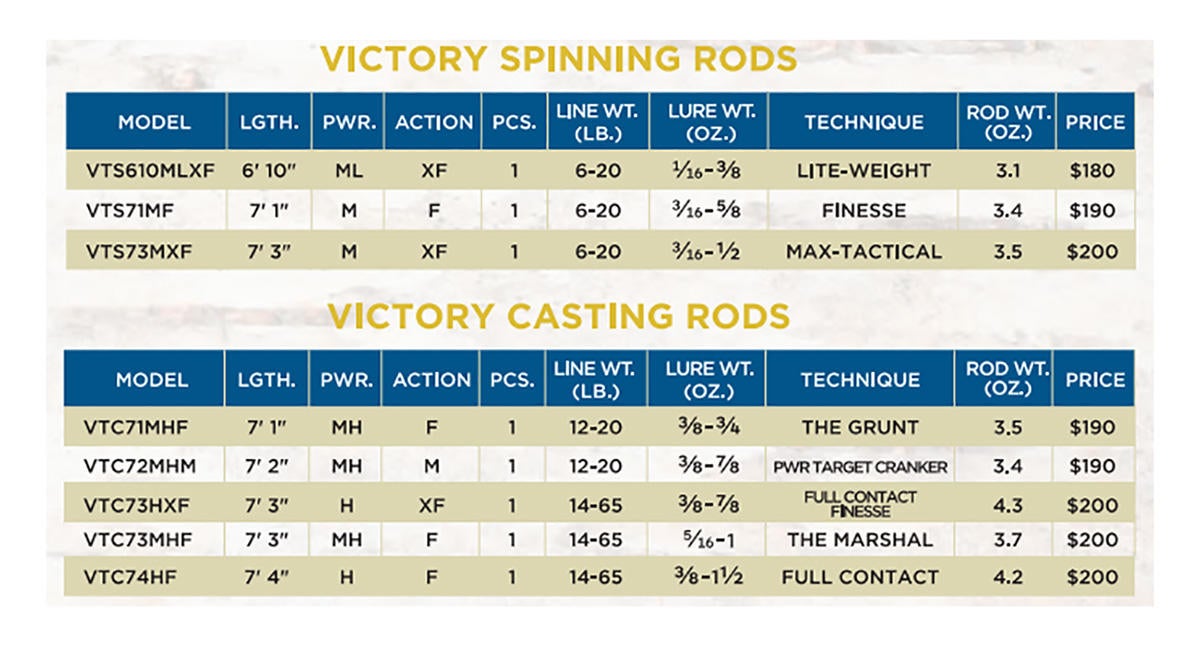 St. Croix Victory Rods
The first 8 actions hit the shelves on March 19, 2021. But there are a bunch more coming in the near future. Right now there is a pretty good mix of rods for spring and early summer. You got a couple of workhorse rods that can do a lot in those 7-foot, 1-inch and 7-foot, 3-inch MH F rods. Then you have a nice 7-foot, 2-inch target cranker rod that will be dynamite for shallow crankbaits, chatterbaits and even spinnerbaits. 
Throw in the Full Contact Finesse rod for hitting isolated targets with a jig or plastic and round it out with the 7-foot, 4-inch H F Full Contact rod that can be a flipping stick, frogging rod, even a big topwater rod for your braid and buzzbait or Whopper Plopper in the spring.
The three models in the spinning lineup will cover your finesse applications like wacky rigs, drop shot in the 6-foot, 10-inch ML. Beef up a little to the 7-foot, 1-inch M F Finesse for your ned rigs and shaky heads. And round it out with a little beefier 7-foot, 3-inch M XF Max Tactical for maybe a little bigger Neko rigs, hair jigs, small cranks, or when you're fishing for big smallmouths in current and need a little more umph in your fight.
(7 of 7)
Rods will be staples for a lot of anglers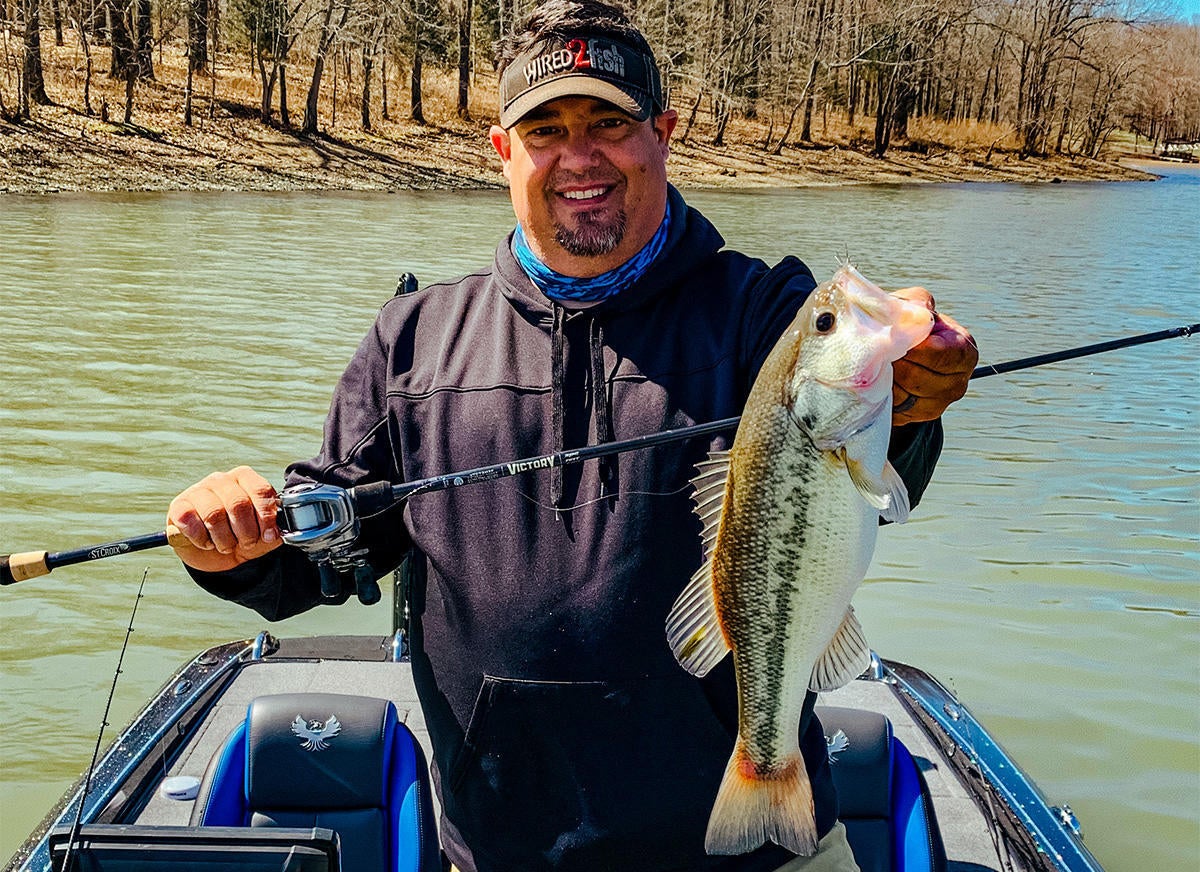 Jason Sealock
So St. Croix set out to make a super solid "staple" rod for a large community of anglers looking for an American made rod, at or under $200, with new technology and materials and wide spectrum of actions, powers and tapers to cover as many styles, techniques and angler preferences as they could in one lineup with these Victory rods. I feel like they are there with these initial introductions. I'm excited to fish with more of the rods after having good experiences with a couple of the rods already. 
They are clean, balanced, sensitive and strong rods at a very fair price. They load well, cast well, fish well and feel right with everything I've tried. I've skipped a jig really well with the rods, roll casted on isolated targets hit fish on long casts and short pitches with all the control I needed. I can feel the rocks really well dragging a football jig. Hopping a jig felt right on the Full Contact Finesse. 
The Victory rods feel good with both fluorocarbon and braid, alike. So I'm very impressed with what they set out to do with the rods and where they ended up with the Victory lineup. 
You can find Victory Rods online at the following retailers: